Nobel Peace prize winner Malala Yousafzai, Obama's daughters and Joshua Wong, the face of the Hong Kong protests against China have been named by Time magazine among its list of the 25 most influential teenagers of 2014.
Pakistani schoolgirl Malala Yousafzai, the joint winner of the Nobel Peace Prize, waves after speaking at Birmingham library in Birmingham, central England. Photographs: Darren Staples/Reuters
"Teens today might have a mixed reputation, but there's no denying of their influence. They command millions of fans on Twitter and Vine, start companies with funds they raised on Kickstarter, steal scenes on TV's most popular shows, lead protests with global ramifications, and even win Nobel Peace Prizes," Time said as it analysed factors like social-media followings, cultural accolades and business acumen to compile the list.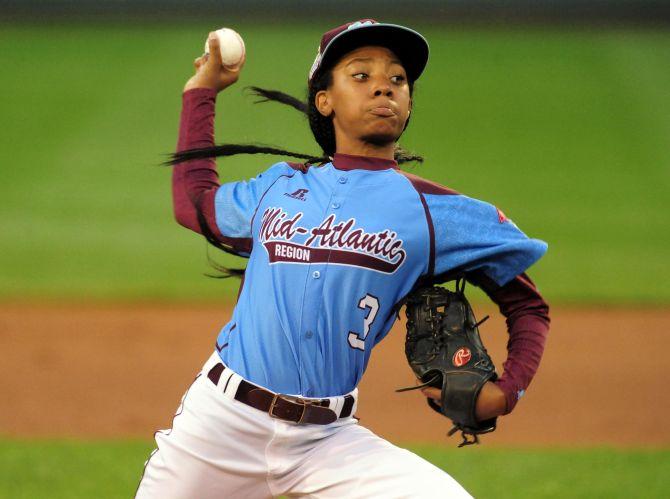 Mid-Atlantic Region pitcher Mo'ne Davis (3) throws a pitch in the first inning against the West Region at Lamade Stadium. Photographs: Reuters
The youngest on the list is 13-year-old Mo'ne Davis of Pennsylvania, a female baseball player who appeared on the cover of Sports Illustrated.
Obama's daughters Sasha, 13, and Malia, 16, are also on the list.
"A lot of dads get squeamish about their daughter's first prom, but only Malia Obama's date status could be called "classified information", as the President joked," on TV earlier this year.
Time said the elder Obama sibling has "emerged as a figure of national interest" and her appearance at Chicago's Lollapalooza Music Festival caused almost as much of a stir as the musicians themselves.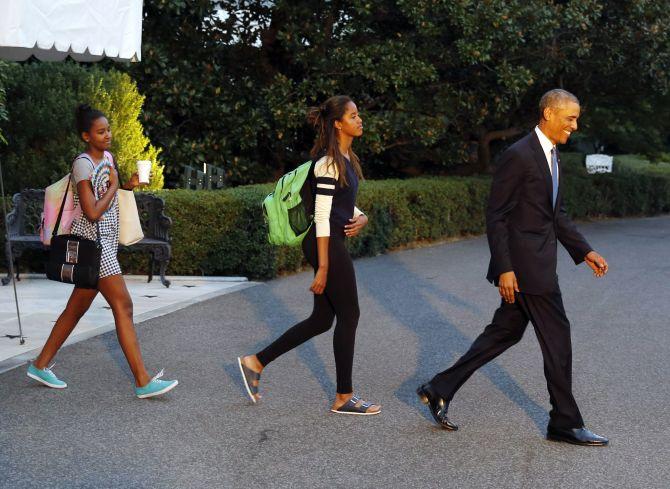 U.S. President Barack Obama and his daughters, Malia (C) and Sasha (L), depart the White House for the presidential retreat Camp David in Maryland. Photographs: Larry Downing/Reuters
While Malia's name has "spiked in popularity" after her father's election, Sasha has become an icon in her own right.
Wong, 18 has become the face of the Hong Kong protests, a civil disobedience movement demanding that China stages unfettered elections for Hong Kong's top political position.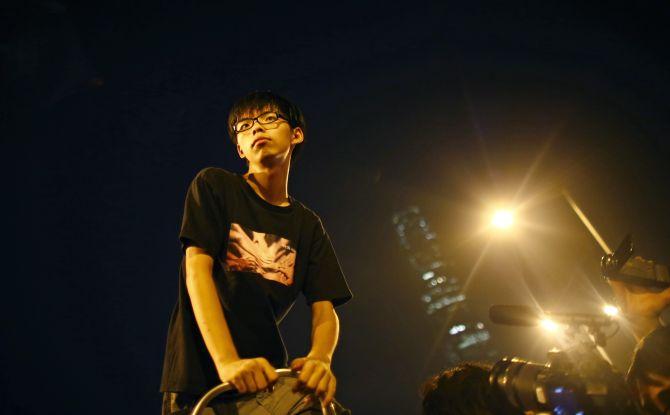 Joshua Wong, leader of the student movement take a pause after delivering a speech to protesters outside of Hong Kong's Chief Executive Leung Chun-ying offices in Hong Kong. Photographs: Carlos Barria/Reuters
"To some, he's a symbol of hope -- a youth rallying his peers to fight for a cause they believe in. In mainland China, however, many argue Wong is an extremist and an emblem against China's storied national order," Time said.
Jazz Jennings, 14, has been lauded by Time for her support towards transgender rights. Jennings started living as a girl at the age of 5.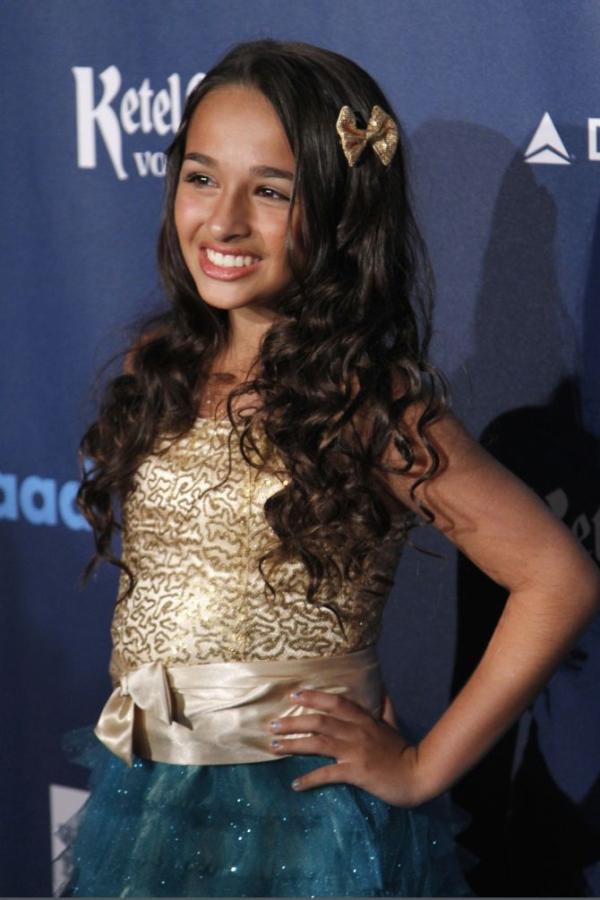 Transgender teen Jazz Jennings arrives at the 24th Annual GLAAD Media Awards at JW Marriott Los Angeles at L.A. LIVE in Los Angeles, California. Photographs: Jonathan Alcorn/Reuters
She co-wrote a children's book, "I Am Jazz", loosely based on her life that aims to help other kids understand what the term 'transgender' means.
Yousafzai, 17, became the youngest-ever recipient of the Nobel Peace Prize two years after Taliban gunmen shot her in the head while she was riding to school.
"The accolade caps an impressive -- albeit early -- career for Yousafzai, who has used her organisation, the Malala Fund, as a platform to promote girls' education, help Syrian refugee children and demand the return of the Nigerian girls kidnapped by Boko Haram, among other things," Time said.
In April, she received an honorary doctorate in civil law from the University of King's College in Canada.
"Malala is a testament that women everywhere will not be intimidated into silence," former Arizona Congresswoman Gabrielle Giffords, who also survived a shooting incident, wrote of Yousafzai in this year's Time 100.
"We will speak, no matter how hard it is to do so."
The list also includes 15-year-old Flynn McGarry, who has emerged as a chef in the culinary industry and 15-year-old Erik Finman, founder of a website that offers tutoring over video chat for teens.
The other names in the list include actor Will Smith's 16-year-old-son Jaden Smith, 17-year-old Lydia Ko, who ranks third among women golfers in the world and 17-year-old Salma Kakar, the lead rider on the co-ed Afghan National Cycling Team.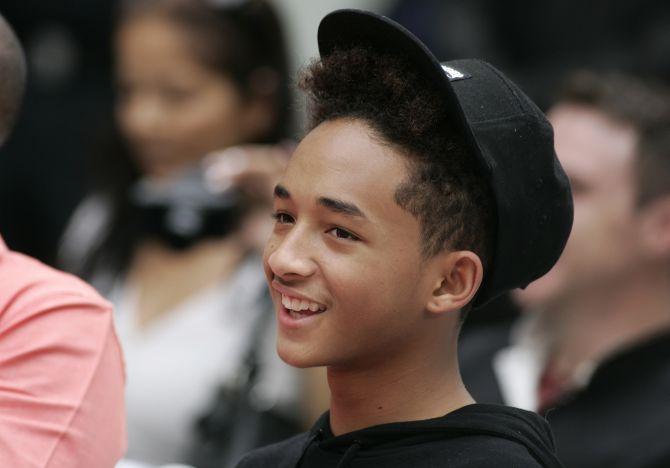 Actor Jaden Smith attends a hand and footprint ceremony for actor Jackie Chan at the TCL Chinese Theatre in Hollywood, California. Photographs: Jonathan Alcorn/Reuters
Kakar's dream is to "wave the flag of Afghanistan at the Olympics one day, and to show the world how far Afghan women have come."
Ciara Judge, 16, Emer Hickey, 17, and Sophie Healy-Thow, 17, from Ireland also made it to the list because they took home the grand prize at the Google Science Fair after wowing the judges with their discovery 'Diazotroph', a bacteria that sucks nitrogen from the atmosphere into soil, speeding up the germination of cereal crops and increasing their yield.