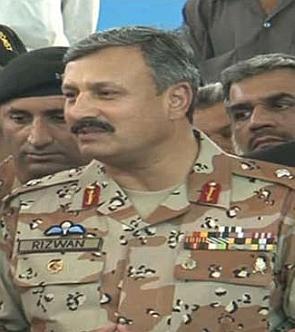 Lt General Rizwan Akhtar, a close confidante of Pakistan's powerful army chief, was on Monday named as the new head of the controversial spy agency Directorate for Inter-Services Intelligence, enhancing the military's clout over the embattled government facing protests.
Lt Gen Akhtar was promoted as a three-star general and appointed Director General Inter-Services Intelligence as part of a major reshuffle in the military, a development that would help army chief Gen Raheel Sharif in consolidating his powers amid political instability in the country.
"Maj Generals Rizwan Akhtar, Hilal Hussain, Ghayur Mahmood, Nazir Butt, Navid Mukhtar, Hidayat Ur Rehman were promoted to next ranks, Director General Inter Services Public Relations," Major Asim Bajwa tweeted.
Akhtar was appointed as DGISI, Hidayat was posted to Peshawar Corps, Mukhtar to Karachi Corps, Hussain to Mangla Corps, Mahmood to Gujranwala Coprs and Butt was made chief of communication and Information Technology at the Headquarters.
Prime Minister Nawaz Sharif gave his approval to these postings on the recommendations of General Sharif.
Lt Gen Akhtar will take over from October 1 when the current ISI chief Lt Gen Zaheerul Islam retires along with four other lieutenant generals.
Those retiring are Mangla corps commander Lt Gen Tariq Khan, Gujranwala corps commander Lt Gen Saleem Nawaz, Peshawar corps commander Lt Gen Khalid Rabbani and Karachi corps commander Lt Gen Sajjad Ghani.
Technically and legally, the ISI chief is appointed by the PM on the advice of the army chief but the former can seldom have his will. Usually, the army chief sends a name as a formality to the PM, who has to approve it.
Earlier, it was reported that Maj Gen Naveed Mukhtar was also in the running for the top spy job.
Akhtar is a graduate of the Command and StaffCollege in Quetta, NationalDefenseUniversity and the Army War College, USA, Dawn News reported.
He is from the Frontier Force Regiment and commanded the infantry brigade and infantry division in the Federally Administered Tribal Areas. Previously as Sindh DG Rangers, Maj Gen Akhtar had been assigned with the task to lead the Karachi operation.
As head of the paramilitary Rangers force in Karachi he launched a major operation against criminal gangs and Taliban militants. But the military had later replaced him as DG Rangers Sindh with another senior military officer.
Akhtar is also considered to have extensive experience of counter-insurgency from a previous posting in the border region of South Waziristan. "He has served in a place like Karachi while remaining neutral and apolitical and has extensive experience of counter-insurgency and counter-terrorism. He was the obvious choice," said a serving military official.
"He is a professional soldier who has experience of both FATA and internal security in Karachi," an army official said.
The ISI was established in 1948 and became the primary institution running the intelligence operations of the army, air force and navy.
Image: Lt Gen Rizwan Akhtar