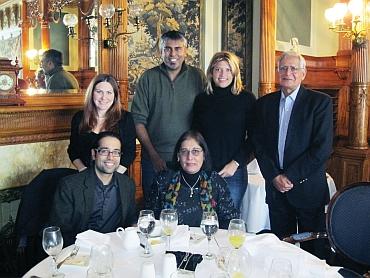 Michigan has elected its first Indian-American State House Representative -- Samir 'Sam' Singh. George Joseph reports.
Singh, 41, won from the 69th district defeating Republican candidate Susan McGillicuddy, the longtime Meridian Township supervisor, with 65 per cent of the votes.
Singh said the general election November 6 was easier for him from a predominantly Democratic district, compared to the primary.
"It was a tough fight in the primary," he said. There, he faced Susan Schmidt, chief of staff of retiring incumbent representative Mark Meadows, who supported her. After a spirited fight, Singh prevailed.
A year after graduating from Michigan State University in 1994, Singh became Michigan's youngest city councilor at 24. After serving for a decade, at 34, he became the city's mayor (2005-2007).
He said he is proud that his term as mayor resulted in strengthening the relationship between the university and its hometown. He was recently appointed to MSU's Student Affairs National Leadership Board.
Singh, who began his political career as a student leader, said he had never 'encountered any racial prejudice'. "I served as a councilman and then served as mayor. People know about me. It is a very open electorate," he added.
There are few Indians in District 69.
Singh is a passionate traveler who has visited 67 countries. "Sam decided not to run again for mayor in 2007 to pursue his desire to travel the world," said his father Karan Pal Singh, an engineer who worked for Ford Motors for 36 years.
"In January 2007 he left for his world travel. My wife and I met Sam in several countries during his travel." Sam Singh's immediate plans are to help improve the state's economy.
"The economy has stabilised now after reaching a low," he said. "The automobile industry is in upswing and makes profit. Many people had lost work earlier and the concern is to bring them back to work."
Education is another focus area for him. "We have to prepare our youngsters for a global economy. We need programs for that from schooldays," he said.
He said his parents -- Karan Singh came in the 1960s from Uttar Pradesh for higher studies, married Abha in 1967 and Samir was born in 1971 -- always supported him for his work right from the days as a student leader. He has a younger brother, Sunil, who works at a nonprofit.
Singh is getting married on December 7 to Kerry Ebersole, who is also involved in public affairs. As a second generation Indian American, he said his advice to community peers is to be get involved in public affairs.
Singh serves as senior consultant for the New Economy Initiative for Southeast Michigan, a $100-million philanthropic initiative aimed to help make Michigan a knowledge-based economy. He is also an affiliated consultant at the Lansing-based evaluation firm Public Policy Associates.
He was president and chief executive officer of the Michigan Nonprofit Association, a 1,100-member association involved in public policy, capacity building and leadership development for the nonprofit sector.
As a student, in the early 1990s, he was involved in leadership roles including being a resident assistant, a member of the Phi Sigma Phi fraternity, and chief of staff of the student government.
He was also involved in starting a number of philanthropic activities on campus. He was named Spartan of the Year in 1993 by the MSU student newspaper, the State News.
In Pic: Samir Singh (second from left, standing, with his fiancee Kerry Ebersole, parents, brother and brother's fiancee