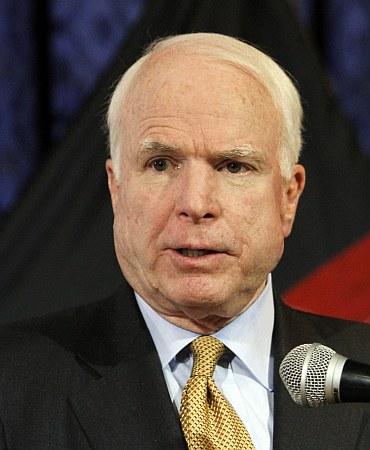 Senior Republican Senator John McCain has joined the group of lawmakers urging Congressional leadership to invite India's Prime Minister Narendra Modi to address a joint session of the United States Congress.
"When the PM comes to Washington, I urge our congressional leaders to invite him to address a joint session of Congress," McCain said in a major speech on India at the Senate on Thursday.
The Arizona Senator is travelling to India next week to meet Modi and his national security team. Last week, two top American lawmakers had urged the Speaker of the US House of Representatives John Boehner to invite Modi to address a joint session of the US Congress.
Congressman Ed Royce, Chairman of the House Foreign Affairs Committee, and Congressman George Holding in a letter to House Speaker John Boehner, had requested that Modi be allowed to address a joint meeting of Congress.
Modi is expected to travel to Washington in September. "I can imagine no more compelling scene than the elected leader of the world's largest democracy addressing the elected representatives of the world's oldest democracy," McCain said.
"As we seek to take our strategic partnership with India to the next level, it is important for US leaders to reach out personally to Prime Minister Modi, especially in light of recent history. That is largely why I am travelling to India next week. And that is why I am pleased that President Obama invited the Prime Minister to visit Washington. I wish he had extended that invitation sooner, but it is positive nonetheless," he said.
In his speech, McCain said India and the US have a shared interest in working together to end the scourge of extremism and terrorism that threatens stability, freedom, and prosperity across South Asia, and beyond. "The (US) President's current plan to disengage from Afghanistan is a step backward from this goal, and thus does not serve the US-India strategic partnership," he said.
"For all of these reasons, and more, I hope the President will be open to re-evaluating, and revising, his withdrawal plan in light of conditions on the ground," McCain said.