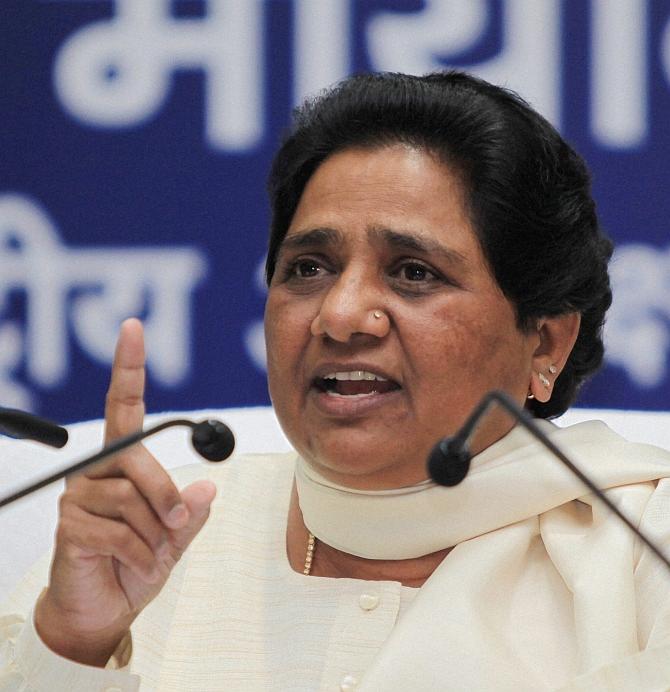 The Bahujan Samaj Party will move court against the alleged tampering of Electroni Voting Machines during the Uttar Pradesh assembly elections in the next two-three days, its chief Mayawati said on Monday.
She charged that 'the BJP (Bharatiya Janata Party) won elections by rigging electronic voting machines'.
"We will approach court over the issue in the next two-three days," the BSP supremo told reporters in the Parliament premises.
Earlier, the Election Commission had rejected Mayawati's claim that EVMs were rigged and said her demand for a re-poll using ballot papers was legally untenable.
The BSP, which had 80 MLAs in the outgoing UP assembly, managed to win just 19 seats in the 403-member House.
On UP's new Chief Minister Yogi Adityanath, Mayawati said that he will 'divide the state on communal lines' and push the agenda of Rashtriya Swayamsevak Sangh in the state.
She also said that the BJP will not be able to maintain law and order in Uttar Pradesh.
"In Uttar Pradesh, it does not matter if it is the SP or the BJP in power. They cannot control law and order. BJP has appointed a priest as chief minister who will not take forward the agenda of development but will push the RSS agenda.
"They will divide Uttar Pradesh on communal lines. Now, there will again be an environment of fear in the state," she told reporters outside Parliament.