Mayawati vows to storm back to power in 2017. Sharat Pradhan reports.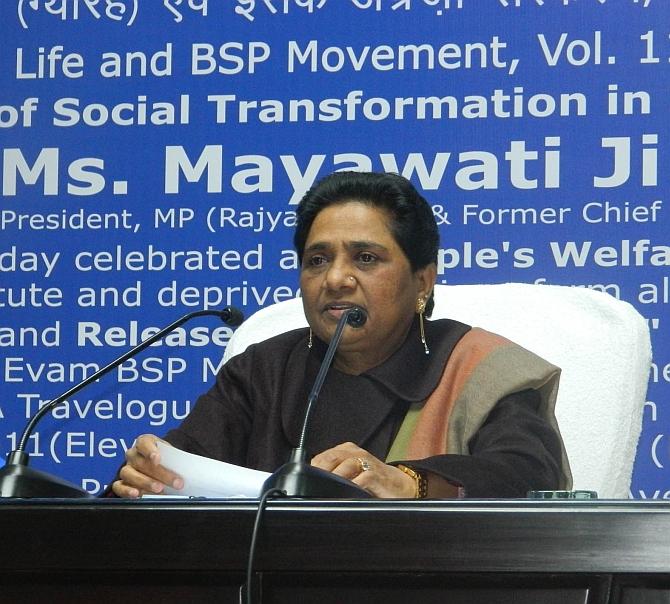 Bahujan Samaj Party supremo Mayawati celebrated her 60th birthday on Friday, January 15, with a big bash in Lucknow where she emphatically declared her resolve to trounce the ruling Samajwadi Party and return to power in 2017.
The celebrations were not like what they used to be during her years as Uttar Pradesh chief minister.
When she was chief minister, her birthday was declared as Arthik Sahyog Diwas (financial support day). This time, it was celebrated as Jan Kalyankari Diwas (people's welfare day).
Mayawati, who usually displays her diamond-studded necklace and earrings, wore a high-neck long coat over her usual pink satin silk suit. The birthday girl didn't cut a cake either.
Instead, gajar halwa was served with a lavishly laid out lunch which she did not herself join.
The celebrations may have been subdued, but her tone and tenor was clear and unflinching.
Taking on Samajwadi Party chief Mulayam Singh Yadav at her customary birthday interaction with the Lucknow media, Mayawati said: "The kind of samajwad (socialism) that Mulayam is practicing would have invited the wrath of Ram Manohar Lohia in whose name he swears without following any of the latter's ideals."
"And if Lohiaji were to see the outlandish manner in which Mulayam celebrated his birthday, he would have exiled him from samajwad," she added.
Flaying the Akhilesh Yadav government for discontinuing several welfare schemes launched during her regime, Mayawati warned, "I wish to inform Samajwadi Party leaders that they will pay for such vindictive actions once I return to power in a few months from now."
"The people of the state have suffered enough on account of the complete breakdown of law and order, largely because of the Samajwadi Party's blatant patronage to goons and criminals. They have also been taken for a ride by the corrupt governance."
"Everyone can see that neither the BJP (Bharatiya Janata Party) nor the Congress are in any position to bring the people any relief," Mayawati said. "Therefore, they will repose their faith in the BSP which alone will rid the state of goondaism and corruption."
Mayawati cited past examples when, according to her, both the Congress-led United Progressive Alliance and the BJP-led National Democratic Alliance governments had failed to do anything for the uplift of the downtrodden castes of whom she alone claimed to be a "true messiah."
In a bid to woo the upper castes, she advocated reservations for the poor among the upper castes.
She also lashed out at the Narendra Modi government for its "failure to keep various election promises as also for fuelling communal disharmony across the country."
"Modiji rode to power by promising the poor that each one of them would get Rs 15 to 20 lakh after his government retrieved India' black money parked in foreign banks within 100 days," she said. "But all those promises have been proved hollow and false."
IMAGE: Bahujan Samaj Party chief Mayawati addresses the media in Lucknow on her 60th birthday. Photograph: Sandeep Pal