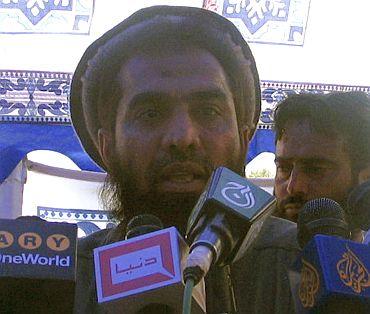 Lashkar-e-Taiba operations commander Zaki-ur-Rehman Lakhvi, the 2008 Mumbai terror attack mastermind, has been granted bail by a Pakistani court in the abduction case of an Afghan national.
But the 54-year-old militant cannot be released from Adiala Jail Rawalpindi till another court decides his detention under the government's Maintenance of Public Order.
"A lower court of Islamabad on Thursday admitted Lakhvi's application in the abduction case of Anwer Khan, an Afghan national, and granted him bail against the surety bonds of worth Rs 200,000," his counsel Raja Rizwan Abbasi said.
Abbasi said he told judge Mian Azhar Nadeem that his client had been implicated in a "false and fabricated" FIR.
He said the FIR had ghost character (Anwer Khan) and the police made a concocted story to keep his client in jail after the Islamabad high court had suspended the government's order to detain his client.
He claimed the government had rushed to register a false case against Lakhvi on the pressure of India which was not happy over the release of his client in Mumbai attack case.
The prosecution lawyer argued that the Islamabad police had been investigating against Lakhvi for kidnapping Khan.
He said the police needed physical remand of the accused to divulge more information about the abducted person as he had been missing for the last six years.
"The police will seek Lakhvi's physical remand when he will be produced before a judicial magistrate on Jan 15," he said. The judge, however, granted bail to Lakhvi.
"I will fight the detention of my client in the Islamabad high court. There has been no justification to detain Lakhvi after the trial court and a lower court granted him bail in the Mumbai attack case and abduction case, respectively," Abbasi said.
According to the FIR, Khan, an Afghan national, went missing from Islamabad's Thallan Syedan suburb some six year ago.
His brother-in-law Muhammad Daud, complainant of the case, accused Lakhvi behind his kidnapping.
Lakhvi and six others -- Abdul Wajid, Mazhar Iqbal, Hamad Amin Sadiq, Shahid Jameel Riaz, Jamil Ahmed and Younis Anjum -- have been charged with planning and executing the 26/11 attack in November, 2008 that left 166 people dead.