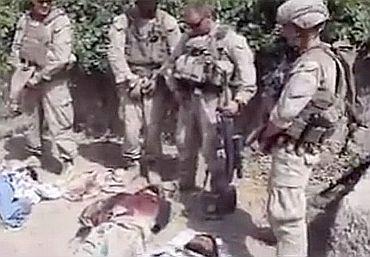 United States Defence Department authorities has announced a special court martial for a marine, who was involved in an alleged desecration incident in Afghanistan, wherein he was seen urinating on corpse of Taliban fighters.
"Staff Sgt Joseph W Chamblin would be tried by special court-martial at Marine Corps Base Camp Lejeune in North Carolina on December 19," an official statement said on Friday.
The incident took place during a counter-insurgency operation in the vicinity of Sandala, Musa Qala District in Helmand Province of Afghanistan, on July 27, 2011. The video of this incident surfaced on you tube early this year.

Staff Sgt Chamblin was also charged with other alleged misconduct that took place during the same operation, to include being derelict in his duties by failing to properly supervise junior Marines, failing to require junior Marines to wear their personal protective equipment, failing to stop and report the misconduct of junior Marines, failing to report the negligent discharge of a grenade launcher, and failing to stop the indiscriminate firing of weapons.
The charges were referred to court-martial by Lieutenant General Richard P Mills, the Commanding General of Marine Corps Combat Development Command on September 21, 2012. Chamblin is assigned to Third Battalion, Second Marine Regiment at Camp Lejeune.
In September this year, Chamblin along with Staff Sergeant Edward Deptola were charged with misconduct that took place during the operation.
Deptola is also charged with failing to stop the unnecessary damaging of Afghan compounds and wrongfully and indiscriminately firing a recovered enemy machine gun.
In August, three Marines were punished for misconduct that came to light during several investigations into the desecration and filming of deceased Taliban, shown in a video that became public in January 2012.