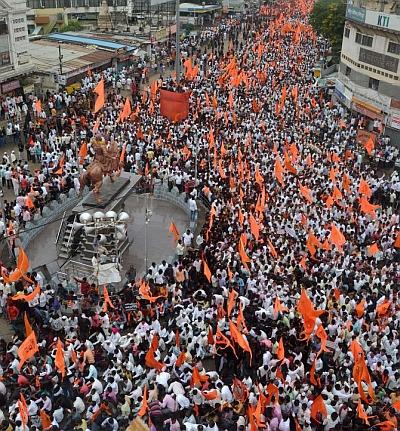 After holding protests in various districts of Maharashtra, members of the Maratha community on Sunday held a silent march in Pune to press for their demands.
Lakhs of people, including men and women, students, working professionals, lawyers and doctors from the community, participated in the march, under the umbrella of 'Maratha Kranti Muk Morcha'.
The agitation continued for three hours as protesters marched from Deccan Gymkhana to Council hall, where six girls submitted a memorandum and charter of demands to Pune District Collector Saurabh Rao.
The community has been holding marches in different districts to press for their demands, including punishment of culprits in Kopardi rape and murder case, quota in education and government jobs, Amendment in SC, ST (Prevention of Atrocities Act) to stop its misuse, loan waiver to farmers to curb suicides, and guaranteed rate for agricultural produce.
"After the brutal rape and murder of a girl in Kopardi, there is anger in the community, and with the huge silent marches being organised sans political leaders state-wide, the government must take cognisance of the demands of the community," the memorandum said.
Though organisers claimed that Sunday's march had a record footfall of 30 lakh, police said eight to 10 lakh people, mainly from rural areas, participated in the march.
"The march was executed by the organisers in a disciplined manner and it ended within two to three hours with no untoward incident," a senior police official said.
Rajendra Kondhare, one of the organisers, said several people, who had come from outside the city, could not reach the starting point as they got stuck midway due to huge crowd on the roads.
A Maratha community member, who participated in the march, said, "Though the entire march was conducted peacefully and with complete discipline, we have sent our demands to the government loud and clear."
NCP MP from Satara Udayan Raje Bhosale, party MLA Dilip Walse Patil, Pune MP Anil Shirole were among those who took part in the march. Noted athlete from Satara Lalita Babar also participated.
Earlier, the Maratha rallies in Aurangabad, Navi Mumbai, Akola, Latur and Nanded, Nashik, Osmanabad, Ahmednagar also drew huge crowds.
Representative Photograph: PTI Photo