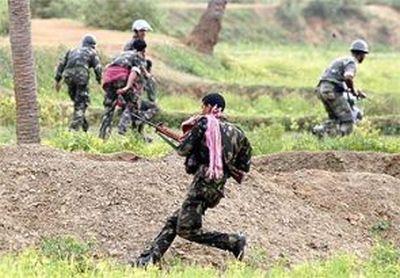 As many as 21 Maoists -- including at least two top Maoist leaders carrying a reward of Rs 20 lakh each on their heads -- were gunned down in an exchange of fire with the Greyhounds of Andhra Pradesh and Odisha Police in Malkangiri forest area on the AP-Odisha border in the wee hours of Monday, a top police official in Visakhapatnam said.
Police suspects that a top Maoist leader and son of another high ranking cadre might be among those killed in the encounter.
AP Director General of Police, Nanduri Sambasiva Rao who left for Visakhapatnam immediately upon receiving news of the encounter, confirmed the Naxal casualties.
According to AP Police, two senior commandos of Greyhounds, an elite anti-Maoist force, were also injured in the encounter that occurred during a routine combing operation being jointly carried out by police of both the states at Ramgurha in Malkangiri district of Odisha.
The commandos were airlifted to Visakhapatnam for treatment.
The face-off between the security personnel and the outlaws lasted for about an hour.
Sources said Gajarla Ravi alias Uday and Chalapati, two high-ranking Maoists leaders, were suspected to be among those killed. One Munna, son of Maoist top leader Ramakrishna, was also said to be among the casualties.
Besides 15 men, some women Maoists were also said to be among those killed in the face-off which lasted for almost an hour early on Monday morning.
When asked about this, a top-ranking police official said 'it could be' but did not wish to comment further.
Police recovered four AK-47 rifles from the scene of the encounter, where a Maoist den was also found.
"A large haul of weapons like AK47s and self-loading rifles (SLRs) indicates clearly that it is a case where state level leaders could be present. Unless we identify them, we can't exactly tell who is there," Andhra Pradesh Director General of Police (in charge) Nanduri Sambasiva Rao said.
"It was a joint operation by AP and Odisha security forces. Police special parties were attacked with AK-47 rifles, SLRs and other weapons and this is what happened when they acted in self-defence," Sambasiva Rao said.
"If there is any injured Naxal, we will airlift them as well. We are more interested in evacuating the police force and special parties and also Naxals if anybody is injured," the DGP (in charge) added.
"We are in touch with the Odisha state police and we will take their cooperation (in the evacuation).We think the operation is over," he said.
Representative image.