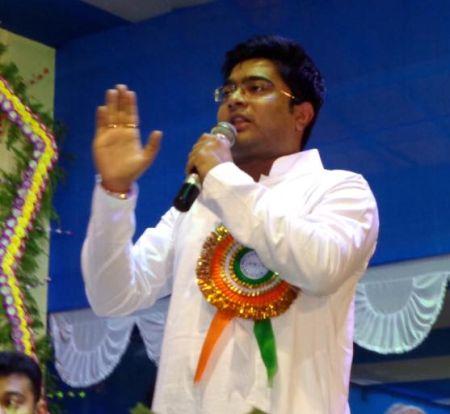 Stirring up a fresh controversy for the Trinamool Congress, West Bengal Chief Minister Mamata Banerjee's nephew Abhishek claimed that the state government should be credited for 'murdering' dreaded Maoist leader, Kishenji.
"Maoist leader Kishenji (Molajula Koteswar Rao) was murdered by the Trinamool Congress government," Abhishek said at a public rally in Belpahari, a tribal village in Jhargram.
"In earlier times, people used to be confused and terrorised. There was only procession of deaths. But in last four years, only one person was murdered. And the name was Maoist leader Kishenji," Abhishek said in his speech.
The speech has triggered an outrage sine the TMC government has always maintained that Kishneji was killed in an 'encounter' that took place in November 2011 at Burisole forest in West Midnapore district.
The government has always maintained that no foul play was at work in Kishenji's encounter.
Soon after his 'death' Kishenji's kin as well as many activists had alleged that the Maoist leader was killed in a fake encounter.
Talking to the media at Peddapalli, Anjaneyulu, elder brother of Kishenji, had maintained that the killing was the result of a 'conspiracy' hatched by the West Bengal and Central governments.
After viewing Kishenji's body, revolutionary writer Varavara Rao had told the media: "I have seen him (Kishenji) several times since 1991. During the last 43 years I have seen a lot of dead bodies but none like this. They cut him, burnt him . . . pumped bullets into him."
The chief minister's nephew 'confession' to the 'murder' of Kishenji has sparked a huge outrage.
The Opposition is demanding the chief minister's resignation for having 'bluffed the people of Bengal' for so many years.
"We need to find out the context in which Abhishek said these words. Abhishek is a young and dynamic leader and it won't be fair to comment on the issue without going into the details," TMC spokesman and Education Minister Partha Chatterjee clarified.
Congress leader Adhir Ranjan Chowdhury, however, told the media on Friday evening that Mamata Banerjee's government is up to its neck in lies and corruption. "It has lost moral right to rule West Bengal," Chowdhury said.