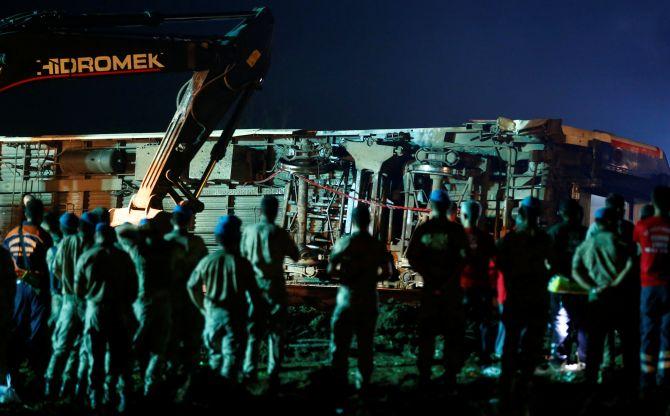 IMAGE: Rescue workers and paramedics work at the site of a train derailment near Corlu in Tekirdag province, Turkey, on Monday. Photograph: Osman Orsal/Reuters
At least 24 people were killed and hundreds others were wounded after five bogies of a passenger train derailed in Turkey's northwestern Tekirdag province.
The Turkish Health Ministry confirmed the incident, which took place on Sunday to the Anadolu Agency.
The train was travelling from Edirne province to Istanbul when the mishap took place near Sarilar village.
As many as 362 passengers and six train staff were on board at the time of the incident.
At least 100 ambulances were sent to the scene, while the Ministry of Health dispatched air ambulances to the region.
Turkey's presidential spokesperson and advisor Ibrahim Kalin took to Twitter to express condolence to the bereaved families and informed that all the relevant units were mobilised for the evacuation process.
Meanwhile, Mehmet Ceylan, Tekirdag's Governor, said the accident took place due to the heavy rains in the region.