Manoj Jarange, the face of latest agitation in support of reservation for Marathas, hails from a farming family and dabbled in politics before taking up issues related to his community and cultivators in Maharashtra.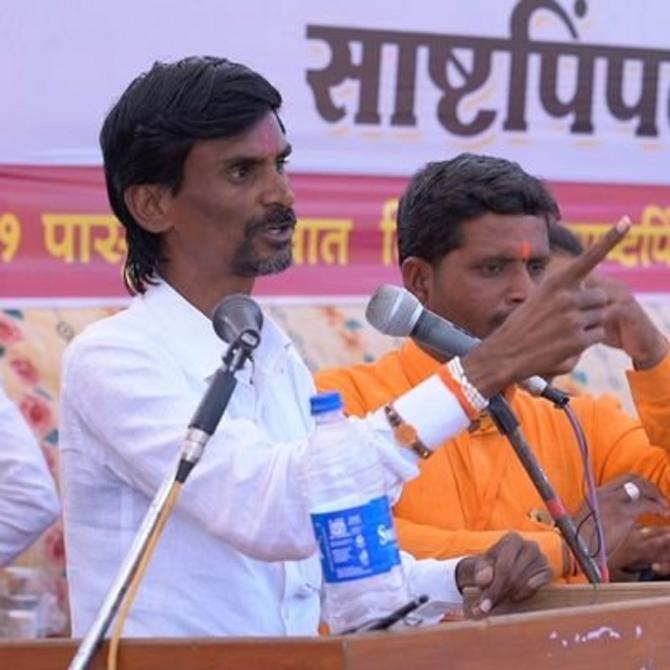 When he started his indefinite hunger strike in support of Maratha quota in a village in adjoining Jalna district on August 29, it largely went unnoticed, but everything changed on September 1 when violence broke out when local authorities tried to move him to hospital.
The subsequent chain of events threw up a huge challenge for the 14-month-old Eknath Shinde-led three-party government with an angry opposition gunning for Deputy Chief Minister Devendra Fadnavis, who holds the home portfolio, and seeking his resignation for police action against Jarange's supporters and pro-Maratha quota protesters.
The police baton charged and lobbed tear gas shells to disperse a violent mob in Antarwali Sarathi village in Jalna district last Friday after protesters refused to let authorities shift Jarange to hospital.
Several persons, including 40 police personnel, were injured and more than 15 state transport buses set ablaze in the violence.
The protest and subsequent police action catapulted the lanky activist, aged around 40, into prominence and forced the Shiv Sena-BJP-NCP (Ajit Pawar group) government to once again start talking about reservation for Marathas in education and jobs, an emotive issue which is now caught in legal tangle.
Jarange originally hails from a small village, Matori, in Beed district of central Maharashtra and spent some time in party politics before agitating for farmers and the Maratha community, according to people who know him.
He completed his school education in the village itself. After spending some years in Matori, he moved to Shahgad under Ambad tehsil in Jalna district where he worked in a hotel, Rajendra Kale, a journalist based in Matori, told PTI.
Later, he got a job in a sugar factory at Ambad from where he joined politics. His wife and children stay in Shahgad in Jalna, he said.
Jarange played a leading role in getting government compensation for families of people who lost their lives in Maratha reservation agitations earlier, Kale said.
"While working for the Congress party, he became district president of the Youth Congress around year 2000. However, due to ideological differences over some political issues, he left the Congress and started working for a Maratha community organization. He then formed an organization named 'Shivba Sanghatana' around 2011," said Prof Chandrakant Bharat, co-ordinator of the Maratha Kranti Morcha, one of the outfits that has been agitating for quota for the community.
Jarange also took up issues related to farmers and in 2013, he launched an agitation for releasing water from the Jayakwadi dam for cultivators of Jalna district, Bharat said.
He was active in the pro-quota marches that were taken out in 2016 across the state and took Maratha community members from Marathwada in central Maharashtra to Mumbai to put forward their demands before the then-BJP government led by Fadnavis, said the MKM functionary.
Jarange's agitation in Sashti Pimpalgaon of Jalna district lasted for nearly 90 days, Bharat said.
Anil Maharaj Jarange, a relative of Manoj Jarange, said the activist left his village Matori around 2005-06.
"His father Raosaheb and mother Prababhai Jarange still reside in Matori. His elder brothers Jagannath and Kakasaheb also live in Matori and do farming," said the relative.
"Manoj purchased some land near Shahgad in Jalna district but his family always had an average income. He also encouraged others to work for the community," Anil Jarange said.