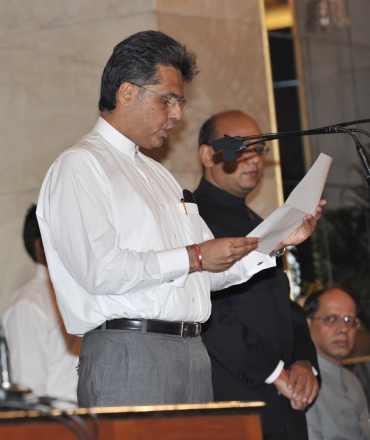 Newly appointed Information and Broadcasting Minister Manish Tewari on Monday took charge of his ministry. After assuming charge, Tewari said he would try and evolve consensus on all contentious issues.

Tewari said his ministry's job was not to regulate the media, but to ensure a level-playing field for everyone and highlight the policies of the central government.
"I think at the end of the day, as I earlier pointed out, that this ministry or given the nature of the medium, we don't really have a regulatory remit. We have a remit which is essentially to see that the ground rules are properly laid out. Everybody has a level playing field to play on, so that there is no let or favour," Tewari said.
"And number two, to see that the policies and programmes of the United Progressive Alliance government get disseminated. So I think those are the essential two remits that we have," he said.
He was asked if he had his hands full as a lot of media coverage was perceived as negative towards the government.
Asked about reports that certain party leaders were not happy with the reshuffle, he said, "In so far as the first question is concerned, that is above my pay grade because the contours of Cabinet reshuffle is something which falls squarely within the remit of the Congress President and the prime minister.
"The Congress president being the chairperson of the UPA, it is the process which is thought through. So I don't think it would be appropriate for me to really be commenting on that," he said.
Tewari also refrained from taking on India Against Corruption's Arvind Kejriwal who had said that corrupt had been rewarded in the reshuffle.
"In so far as the gentleman in question that you referred to, I do not want to start my first day in office on a very very adversarial note but I think it will suffice to say my view on this particular subject and the approach that they adopt is very very well known to all of you," he said.
Asked about the possibility of a shake up within the Congress organisational set up, Tewari said that question was only in the domain of Congress President Sonia Gandhi.
On his plans on the digitisation of cable sector over which the I&B ministry had launched a hi-pitched campaign, the minister said he was gaining information on the subject.
"I am in the process of getting a feedback. Therefore, that's something which the ministry has already put in place. A new minister doesn't essentially mean that you unsettle the complete landscape. Let me get a feedback. Once we have a holistic perspective, we'll take a call on that," he said.
Tewari was also asked by reporters about his views on the issue of paid news.
"I have myself contested elections twice and I am aware of the seriousness of the problem. But this is a kind of problem on which it is important that a consensus is build," he said.
"It has been our belief since the beginning that progress on such sensitive issues can only happen if a consensus is build and an agenda is created. So, the effort will be to reach a conclusion after talking to all and then move ahead," he said.
Tewari also said that before taking charge of the ministry, he had gone on to meet his predecessor Ambika Soni.
"Yesterday, I went and called on her. I addition to being a former minister, she's a very senior colleague in the party. So I went and sought her guidance and blessings," he said.
He said he had also met I&B secretary Uday Kumar Varma.
Image: Manish Tewari takes oath at the Rashtrapati Bhavan in New Delhi on Sunday