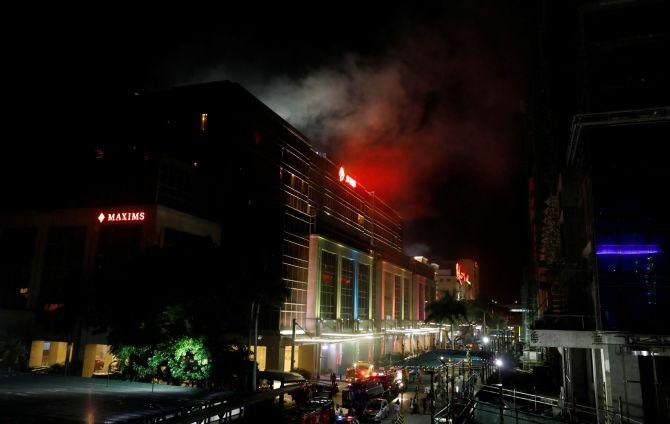 IMAGE: Smoke billows from the Resorts World building in Pasay City, Metro Manila, Philippines. All Photograph: Erik De Castro/Reuters

Thirty-six bodies have been found inside Resorts World Manila, after an attack by a lone gunman who fired shots and set fire to gambling tables in the early hours of Friday morning.
Police said that the bodies didn't have gunshot wounds, and many of them were found in the women's bathroom.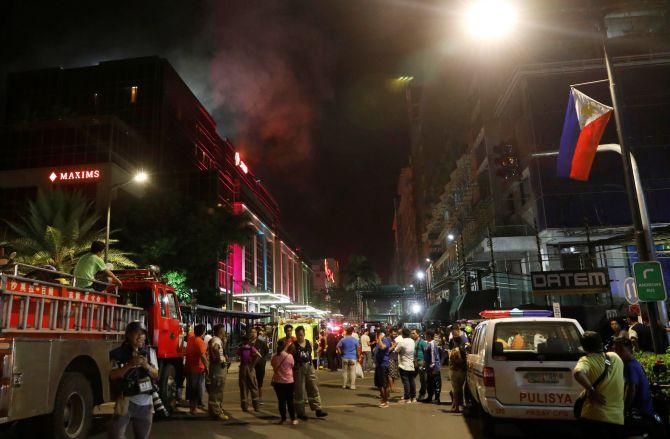 IMAGE:Evacuated employees and guests of hotels stand along a road and watch as smoke billows from a Resorts World building.
Police Superintendent Tomas Apolinario of the Bureau of Fire Protection, Southern Police District, was quoted as saying to local media that, "Most of the victims were women who were found dead inside the bathroom."
Police said that the armed suspect, who is yet to be identified, forced his way into the casino around midnight local time, and started shooting at gambling machines and setting tables on fire.
Video showed panicked guests running for the exits, the sound of gunshots and smoke coming from the upper floors of buildings.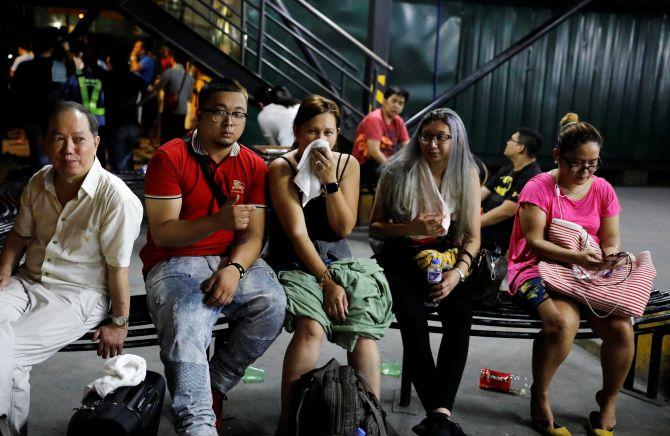 IMAGE: Tourists evacuated from a building.

Hours later, police confirmed the gunman had committed suicide by setting himself on fire in one of the hotel guest rooms.
He was found in the room of the fifth floor of the hotel-cum-casino, burned beyond recognition, next to a machine gun and a .380 calibre pistol, CNN reported.
The Resorts World Manila, also known as RWM, is a resort complex in NewportCity, a residential and commercial centre in metropolitan Manila.
The RWM website describes it as "the first and largest integrated resort in the Philippines" and located opposite the NinoyAquinoInternationalAirport.
It was not immediately clear how many people were hurt in the attack, but the casino said on its Facebook page that 54 persons were being treated in various hospitals post the attack.