The Philippines army battles terrorists backed by Islamic State in the first major military encounter with Islamists in that part of the world.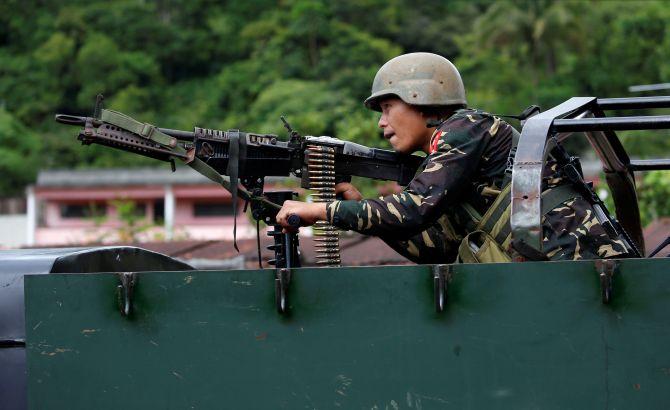 IMAGE: A Filipino soldier aboard an armoured fighting vehicle as soldiers advance in Marawi city. Photograph: Erik De Castro/Reuters
Last week, terrorists linked to Islamic State group torched buildings, seized more than a dozen Catholic hostages and raised IS flags in the mostly Muslim-populated city of Marawi on Mindanao in the Philippines.
Attack helicopters pounded Islamist strongholds, where up to 2,000 residents were feared trapped.
More than 100 people were confirmed killed in the conflict, and President Rodrigo Duterte has declared martial law across the entire southern region of Mindanao, home to roughly 20 million people.
Duterte -- a native of Mindanao himself -- warned that local terrorist groups were uniting behind IS and becoming a major security threat to the Philippines.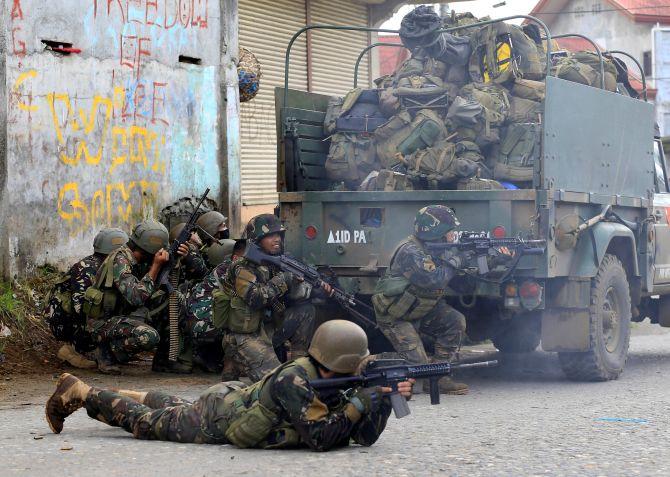 IMAGE: Troops during an assault on the terrorists who have taken over large parts of Marawi. Photograph: Romeo Ranoco/Reuters
As details of the attack in Marawi emerged, fears mounted that the largest Roman Catholic nation in Asia could be falling into a growing list of countries grappling with the spread of influence from Islamic State.
In a video apparently taken by the terrorists and posted on social media, a Catholic priest who was taken hostage says he is being held alongside 200 other captives, including children.
Father Teresito Suganob said his captors wanted the military to withdraw its forces from Marawi where the terrorists still hold pockets of territory after a week of fighting the Filipino army.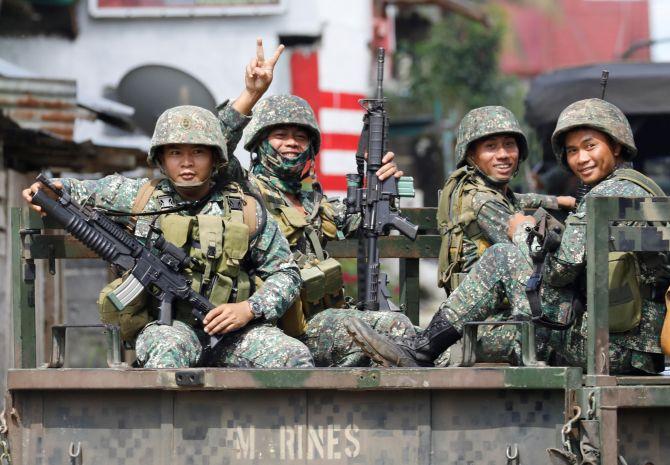 IMAGE: Filipino soldiers on their way to war. Photograph: Erik De Castro/Reuters
The terrorists have withstood eight days of intense air assaults and street-to-street combat.
Military helicopters fired rockets repeatedly and black smoke rose from buildings that were hit.
Thousands of people have fled Marawi since the battle began.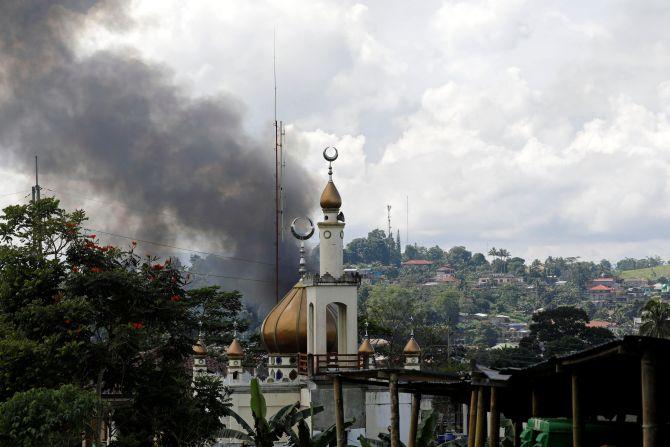 IMAGE: Smoke billows at the site of fighting near a mosque. Photograph: Erik De Castro/Reuters
The battle began after dozens of gunmen went on a rampage in response to an attempt by security forces to arrest Isnilon Hapilon, a veteran Filipino militant regarded as a local leader of IS.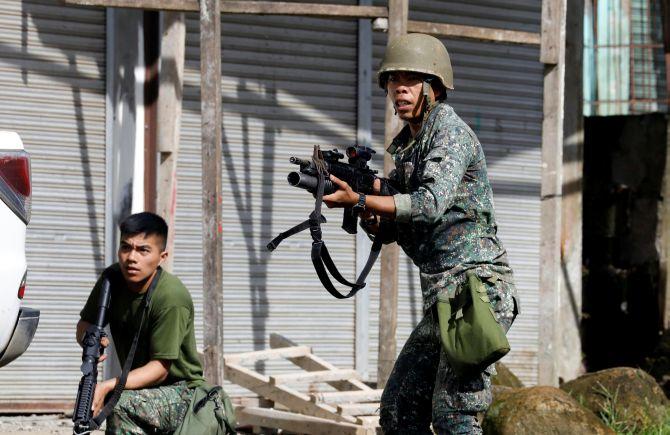 IMAGE: The military operation went wrong when the terrorists called in reinforcements and swept through Marawi. Photograph: Erik De Castro/Reuters
Hapilon, a senior member of the Abu Sayyaf kidnap-for-ransom gang, is on the United States' list of most wanted terrorists.
He was being protected in Marawi by the local Maute group, which has pledged allegiance to IS.
The Filipino terrorists were being backed by foreign insurgents including Malaysians, Indonesians and Singaporeans, the authorities in Manila said.
Maute, Abu Sayyaf and other terror groups are uninterested in negotiations and have in recent years looked to IS to help them.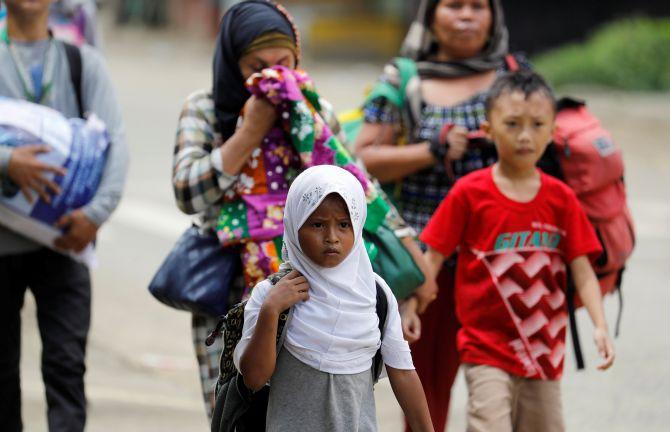 IMAGE: Residents of Marawi flee as the fighting rages. Photograph: Erik De Castro/Reuters
The Marawi violence is intended to highlight their terror credentials to IS, security analysts say.
Duterte -- who says he personally executed drug dealers when he was a mayor in Mindanao -- said he is prepared to enforce martial law for as long as is necessary to quell the terrorist threat.
His predecessors like former president Fidel Ramos fear Duterte will use the situation in Marawi to impose martial law throughout the Philippines as Ferdinand Marcos, the disgraced dictator, once did.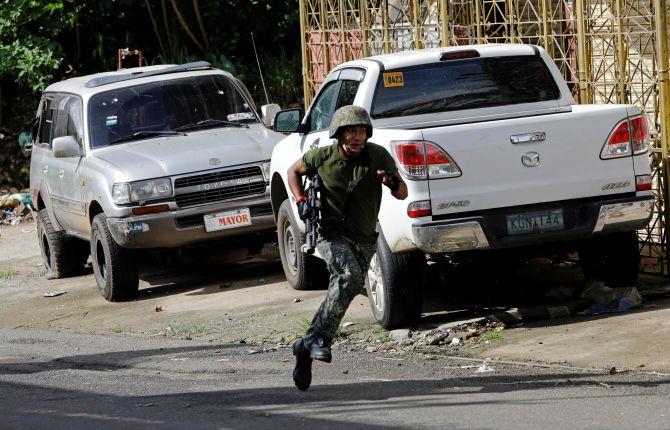 IMAGE: A soldier runs for cover during an assault. Photograph: Erik De Castro/Reuters
Of the 400 to 500 marauding fighters who over-ran Marawi last week, a Philippines intelligence source said as many as 40 had recently come from overseas, including from countries in West Asia.
They included Indonesians, Malaysians, at least one Pakistani, a Saudi, a Chechen, a Yemeni, an Indian, a Moroccan and one man with a Turkish passport.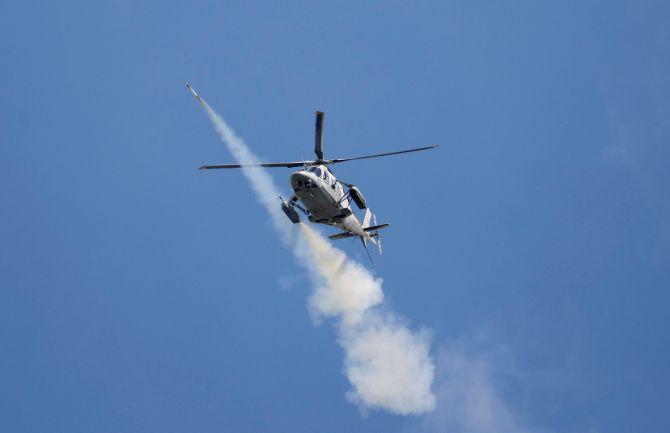 IMAGE: An attack helicopter fires a rocket. Photograph: Erik De Castro/Reuters
Although Islamic State and groups affiliated to it have claimed several attacks across Southeast Asia in the last two years, the battle in Marawi is the first long drawn-out confrontation with security forces.
'IS is shrinking in Iraq and Syria, and decentralising in parts of Asia and the Middle East,' Reuters quoted Rohan Gunaratna, a security expert at Singapore's S Rajaratnam School of International Studies, as saying.
'One of the areas where it is expanding is Southeast Asia and the Philippines is the centre of gravity,' Gunaratna said.