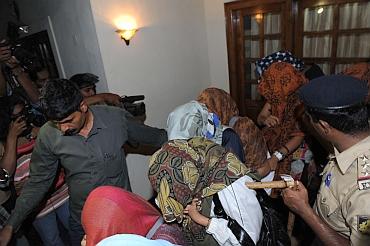 It seems like moral policing is back in Mangalore. This time, members of the right wing group Hindu Jagran Vedike barged into a private party and manhandled the women there, urging them to stop 'indulging in such activities'.
The incident occurred at around 7.45 pm on Saturday at the Morning Mist Home stay in Padil near Kankanady. A group of nearly 40 men, claiming to be from the Hindu Jagran Vedike entered the private party and directed that the party be stopped immediately.
Eyewitnesses say that they slapped the girls at the party and also manhandled several of them.
The self-appointed 'moral brigade' claimed that the girls were dressed 'indecently' and were indulging in activities which were not 'correct'. In all, there were five boys and four girls at the party. Eyewitnesses say that one of the girls who was trying to escape was pulled back and was slapped. The men also banged her head against a wall as she repeatedly cried for help.
It is said that there had been complaints from local residents about these parties, and some of the locals were also seen with the Vedike members at the spot. The Kankanady police under whose jurisdiction this are falls, managed to arrest a couple of the activists.
Subhash, one of the members of the Vedike, said that they would not allow such parties to take place. "It is demeaning and such illegal activities should be stopped at any cost. It is against our culture and community," he said.
This is the second time in three years that such an incident has happened in Mangalore. Earlier, it was the Shri Ram Sena which carried out such an incident which later came to be known as the Mangalore pub attack.
Women were beaten up, and the Shri Ram Sene had warned that they would continue to keep an eye out for such indecent acts. This incident even led to the Sene protesting across the state against celebrating Valentine's Day.