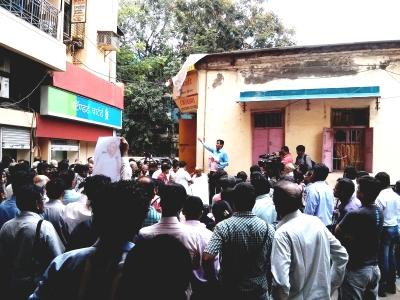 Neeta Kolhatkar reports on the mysterious murder of Maharashtra's leading rationalist, Dr Narendra Dabholkar, in Pune on Tuesday.
Dr Narendra Dabholkar was on his morning walk on the Omkareshwar bridge in Pune on Tuesday morning when two men on a motorcycle fired four bullets, killing him on the spot.
Dr Dabholkar was Maharashtra's leading rationalist, having spearheaded Andhashraddha Nirmulan Samiti, an anti-superstition movement, for many years.
Along with other progressive and like-minded individuals in the state, Dr Dabholkar had tried in vain to get the Anti-Superstition and Black Magic bill tabled in the Maharashtra legislative assembly. A move bitterly opposed by many politicians and social groups.
Chief Minister Prithviraj Chavan told Rediff.com that investigating agencies have begun probing the murder.
The state government will not spare the culprits, Chavan added.
"This cold-blooded assassination is not just of an individual," the chief minister said, "but that of an ideology. The killing is a message to break scientific reason and it is very unfortunate."
Other legislators told Rediff.com that the murder reflects poorly on Maharashtra.
"Here was a man who never spoke against any person or individual, has never indulged in any form of violence and yet he was killed in such a gruesome manner," Nationalist Congress Party leader and legislator Vinayak Mete told Rediff.com
"He spoke about scientific thought and was opposed to black magic and such things. His murder has left a blot on our state. Any claims that we are a progressive state should be forgotten," Mete felt.
Shiv Sena spokesperson Neelam Gorhe -- once a compatriot of Dr Dabholkar and someone who had spread the message of anti-superstition in Marathwada, Pune and other parts of the state -- was saddened by the assassination.
"This is a state that inspired us to get involved in sangharsh (revolution), to oppose atrocities, and hence I got to work with activists like Dr Dabholkar. The environment in Maharashtra today is anti-activists. The murder of whistle blowers like Satish Shetty, and now Dabholkar's murder tells us that the environment in our state has deteriorated. A voice of reason has been gagged," Gorhe told Rediff.com
Shyam Manav, Dr Dabholkar's long-time associate who heads the All-India Andha Sharddha Nirmulan Samiti, told Rediff.com, "All like-minded people and organizations like Ambedkar's, Phule's, progressive followers and movements spearheaded by both Dabholkar and me are in sync. We oppose any sort of superstition and black magic beliefs. However, those of Sanatan ideology have been threatening us and even attacking us."
"Four years ago in Pune," Manav added, "members of a Sanatan ideology organisation disrupted my event, climbed on the stage and tried to twist my neck. Thankfully, it was shot on video and the accused were arrested though the police didn't support us."
"Such groups who want to keep people under their spell oppose our movement because it would mean an end of their business of black magic. It would mean that people see through their falsehoods," Manav felt.
Dr Dabholkar, who would have turned 72 on September 2, was a doctor by training. He tried to change the social mindset of people and inculcate a scientific temper. Dr Dabholkar opposed the rise of religiosity and the Baba culture, exposing so-called gurus who took advantage of people's faith.
Image: Followers of rationalist Dr Narendra Dabholkar remember him at a meet in Dadar, Mumbai on Tuesday ' Photograph: Abhishek Mande-Bhot