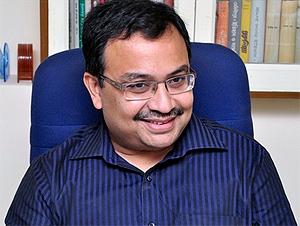 Suspended Trinamool Congress MP Kunal Ghosh on Monday alleged that West Bengal Chief Minister Mamata Banerjee was the "biggest beneficiary" in the Saradha ponzi scheme scam and termed her a "coward".
"Mamata Banerjee is the biggest beneficiary. She is holding party workers' meetings to save herself," Ghosh charged.
Speaking outside Bankshall Court after being brought from Presidency Correctional Home, he said, "She is a coward. She should be made to sit in front of me and questioned."
Ghosh reiterated his demand for a joint questioning by the Central Bureau of Investigation in the scam.
The suspended MP was brought to the court for production in connection with a case of salary default in Channel 10 news channel, where he was CEO.
He is an accused in the multi-crore Saradha scam case and was arrested in November 2013 by Bidhannagar Police. Ghosh was taken into custody by CBI in July after it started probing the scam on a Supreme Court order.