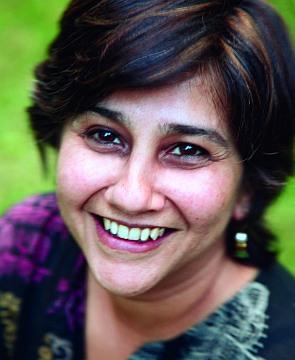 New York-based women's rights group Breakthrough has won the third annual Barry & Marie Lipman Family Prize.
The organization headed by Mallika Dutt, its founder and president, received $125,000 (Rs 75 lakh) and an official recognition at an award ceremony on April 24 at the University of Pennsylvania.
'Breakthrough's efforts to leverage the global allure of pop culture, technology, and media as instruments of empowerment are not only innovative but inspirational,' Amy Gutmann, president, University of Pennsylvania, said in a statement.
'Their work to reduce violence against women exemplifies the founding spirit of the Barry and Marie Lipman Family Prize. It is an honour to work with an organization so deeply committed to the ideal of universal human rights.'
Chosen from over 150 organizations worldwide, Breakthrough is working to drive the culture change necessary to make violence against women unacceptable, in part by engaging men as leaders and partners.
The other winners were Kickstart, a social enterprise designed to lift millions out of poverty quickly and in a sustainable way, and Not For Sale, a non-profit that equips and empowers survivors of human trafficking and vulnerable individuals through services of stability and restoration.
All three will profit from synergistic opportunities with the WhartonSchool and Penn, the University said while announcing the award.
'The entire Breakthrough team is deeply honored to receive the Lipman Family Prize,' said Dutt.

'We are energised by the opportunity to create game-changing new partnerships and engage broad new audiences to realize our mission. Together we will build the generation that makes violence against women and girls unacceptable.'

Umi Howard, director, Lipman Family Prize, said the prize committee was inspired and excited by the work of all three finalists.

'Breakthrough is doing work that brings hope for positive change because it demands accountability. That's a powerful message. Their approach to changing cultural norms through media is provocative and notable for its potential application across multiple social issues,' Howard said.

'The group's accomplishments, including its award-winning 'Bell Bajao!' media strategy in India, and its Ring the Bell public awareness campaign around the world. These are a testament to Breakthrough's organizational strength and dedication to affecting real change in attitudes and behaviours.'
Breakthrough's current global campaign calls on men worldwide to take concrete action to challenge violence against women.