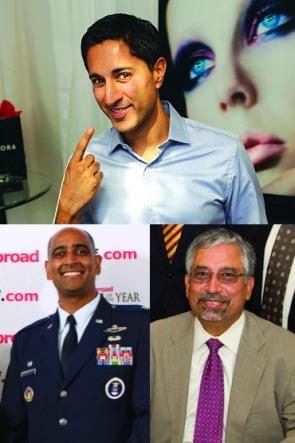 United States President Barack Obama last week announced his intent to name three Indian Americans among 14 new members to the President's Advisory Commission on Asian Americans and Pacific Islanders.
Democratic Party activist and fundraiser Shekar Narasimhan, Lieutenant Colonel Ravi Chaudhary and actor Maulik Pancholy, will -- as the White House said -- serve as the 'eyes and ears of the AAPI community' for the Obama administration.
The advisory commission works to improve the quality of life and opportunities for Asian Americans and Pacific Islanders by facilitating increased access and participation in federal programs where they remain underserved.

The executive director of the Commission, which is a full-time job, is also an Indian American, Kiran Ahuja.

The members who serve as Commissioners of the Initiative, and meet once or twice every couple of months, advise Obama on innovative ways to engage AAPIs across the country and to improve their health, education, environment, and well-being.
The initiative, chaired by the US Department of Education Secretary Arne Duncan and led by Ahuja, is housed in the Education Department.
Members of the Commission and the Interagency Working Group also works collaboratively with the White House Office of Public Engagement, which was earlier headed by Indian-American actor Kal Penn Modi, and now is helmed by White House veteran Gautam Raghavan.
The Commissioners' swearing-in ceremony will take place during the AAPI Heritage Month Opening Ceremony May 6 at the White House.

Image: (Clockwise) Actor Maulik Pancholy, Democratic Party activist and fundraiser Shekar Narasimhan and Lieutenant Colonel Ravi Chaudhary