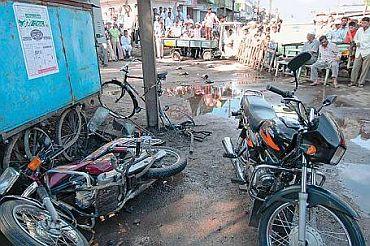 Defence Minister Manohar Parrikar on Thursday said that he has asked the army to provide Lt Col Prasad Purohit with all the documents he has sought to prove his innocence in the Malegaon blasts case, with paras inimical to national security redacted.
Maintaining that the matter was in court and he cannot decide on the merit of the case, Parrikar said he has told the army to give all information sought by Purohit, one of the main accused in the Malegaon 2008 blasts case.
"Except for words of people and names of countries, whatever document he wants, except when directly it impacts security of the nation or it involves names of some other officers, that can be blacked out, the info has to be given to him," Parrikar told reporters in New Delhi.
He said it should help Purohit prove his innocence based on what he is saying.
"The final decision has to be that of the court," he said.
Purohit had earlier this month written to Parrikar requesting restoration of his honour by way of rank.
In his letter dated April 4, he claimed that he has been falsely implicated in the case and has been behind the bars for more than seven years now.
"I have been robbed of honour, dignity and rank and punished for serving the nation," he said.
Purohit claimed he had infiltrated groups like the Students Islamic Movement of India and Naxals as a military intelligence operative and added that he had shared every detail of his operations with his seniors.
This is not the first time that Purohit has written to Parrikar. In November 2015, he had written to him requesting for copies of the Court of Inquiry against him by the Army. He finally got copies of the CoI proceedings following court's intervention.
"It remains a matter of fact, which one may care to pursue from the CoI papers, now with the sessions court in Mumbai, that as many as 14 reports were initiated by me during my tenure in Maharashtra after successfully infiltrating SIMI, IM and Naxals operating in Northern Maharashtra," he had said.
Two explosions had ripped through powerloom town of Malegaon in Maharashtra in September 2008 killing seven people.