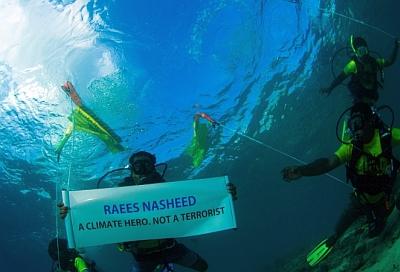 At least 100 supporters of jailed former Maldivian president Mohamed Nasheed have staged a unique underwater protest seeking his immediate release.

The event, "Free Climate Hero, 100 Divers, 100 Flags" began at the WestPark area, near the capital, Male on Saturday.
"100 divers used balloons once they were submerged to put up flags on the surface. We believe that he was a hero in the work against the effects of climate change. And the Divers participated in the event to remember the his work in the field," Hussain Rasheed, the Chief organiser of the event was quoted as saying by SunOnline.
The divers submerged 5 meters and held banners reading "Free Nasheed Now".
"Underwater protest in Maldives for climate hero @MohamedNasheed," Nasheed aide Paul Roberts said on Twitter.
"Ex president Nasheed is a climate hero, not a terrorist," said another banner.
In 2009, Nasheed held an underwater cabinet meeting to call attention to Maldives' vulnerability to climate change.
Supporters on land were also holding banners that read "Free Global President Nasheed banner."
Nasheed was dubbed global president at Copenhagen 2010 for his environmental activism, it reported.
47-year-old Nasheed resigned as the Maldives' democratically elected president in February 2012 after a mutiny by police and troops that followed weeks of protests over the arrest of judge Abdullah Mohamed on corruption allegations.
Naseed was sentenced in March to 13-year imprisonment by a criminal court under the anti-terrorism laws.