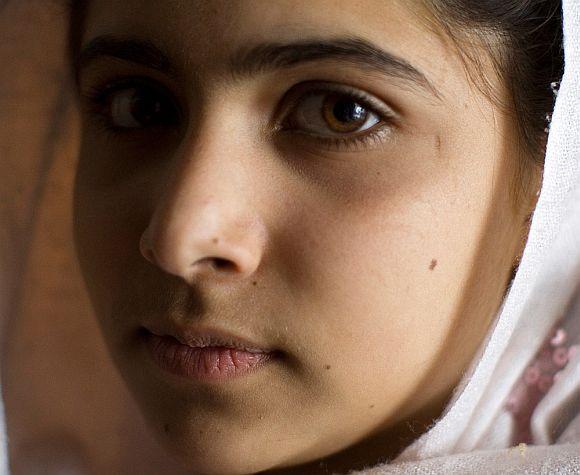 Malala Yousafzai, the Pakistani teen activist shot in the head last year by the Taliban for campaigning for girls' education, has received the highest honour conferred by rights group Amnesty International.
Malala received the 2013 Ambassador of Conscience Award on Wednesday along with American singer and human rights activist Harry Belafonte at a ceremony in Dublin.
"I've written a short speech, because I had to finish my homework," the 16-year-old schoolgirl told the gathering at Mansion House in Dublin.
"With this powerful weapon of knowledge and education, we can fight against wars, terrorism, child labour and inequality. The only tools that are needed are a pen and a book to get us on our way to an enlightened future for one and all," she said, after receiving the award from Irish rock singer and human rights activist Bono.
Referring to children suffering due to war and child trafficking, she said, "You may be asking yourselves -- 'what is the solution?' I believe the only solution is education, education, education."
Malala, determined not to miss even a day of school, flew back to Birmingham, where she now lives with her family, soon after the ceremony.
Malala was shot in the head by the Taliban on a school bus last October, an attack that drew worldwide condemnation. She was flown to Britain for surgery for her head injuries and returned to school in Birmingham in March
"Harry and Malala are truly ambassadors of conscience, speaking up for universal rights, justice, and human dignity and inspiring others to follow their example," Amnesty's Secretary-General Salil Shetty said in a statement.
Previous recipients of the award include South African leader Nelson Mandela and Burmese leader Aung San Suu Kyi. The award was inspired by a poem written for Amnesty by the late Seamus Heaney, called 'From the Republic of Conscience', and it aims to promote London-based Amnesty's work by association with the life, work and example of its ambassadors.
The Nobel laureate, who died suddenly last month, wished to attend the ceremony and read the poem.