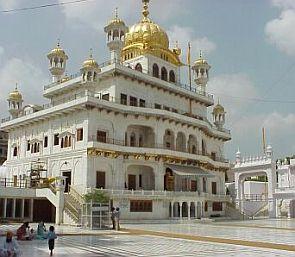 The Shiromani Akali Dal-led Punjab government was on its toes as members of various Sikh organisations, including that of hardline groups, gathered on the outskirts of Amritsar on Tuesday to take part in what they called 'Sarbat Khalsa', seeking to free Sikh institutions from political influence.
The last 'Sarbat Khalsa', a large congregation of Sikhs, was held in 1986.
However, the Shiromani Gurdwara Parbandhak Committee and the Akal Takht, Sikhism's highest religious seat, have refused to term it as 'Sarbat Khalsa', which is being held at Chabba village about 10 km from the holy city.
The congregation is being held near 'samadh' (memorial) of Bhai Naudh Singh on the Amritsar-Tarn Taran Road under overcast conditions.
The state government, which has faced back-to-back protests over loss of crops by farmers and by locals over alleged desecration incidents of Guru Granth Sahib, has turned the holy city into a fortress with heavy security arrangements.
"Paramilitary forces, police personnel and Rapid Action Force are keeping a tight vigil at all major places," police commissioner J S Aulakh said.
The 'Panj Pyaras' (five Sikh preachers) have backed the gathering.
The gathering will discuss the ouster of Akal Takht head Gurbachan Singh and other Sikh priests involved in pardoning of Dera Sacha Sauda sect chief Gurmeet Ram Rahim Singh for his alleged blasphemy in 2007, which triggered violence in Punjab and Haryana.
"Large numbers of Sikhs, including NRIs, have gathered here," SAD (Amritsar) president Simranjit Singh Mann said at the day-long event.
Mann said that names of new jathedars are likely to be proposed which included jailed leader Jagtar Singh Hawara, Devinderpal Singh Bhullar and Avtar Singh Bheora.
Hawara is a Babbar Khalsa militant. He was the mastermind in the killing of Punjab Chief Minister Beant Singh in 1995 and is serving sentence. Bhullar is 1993 Delhi bomb blast case convict.
"Besides framework for appointing jathedars, their role and authority and bringing transparency in their functioning is expected to be brought up before the community," Mann said.
The 'Sarbat Khalsa' is mired in controversy over its name, place and host. The last 'Sarbat Khalsa' was held in 1986 and called for an independent 'Khalistan'.
The Sikh clerics, led by Akal Takht head Gurbachan Singh, have been in the eye of storm after they pardoned the Dera head.
Among those who are organisisng the event are United Akali Dal chief Mokham Singh and SAD's Amritsar president Simranjit Singh Mann.
Many outfits including Sant Samaj, Dal Khalsa, Akhand Kirtni Jatha, Akali Dal Panch Pardani and some Sikh preachers are participating in it.