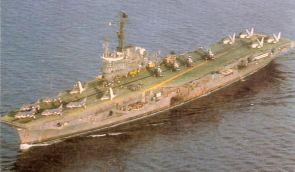 The Supreme Court on Monday ordered maintenance of status quo on India's first aircraft carrier 'INS Vikrant' which is on the verge of being converted into scrap.
A bench comprising justices K S Radhakrishnan and Vikramjit Sen issued notices to Ministry of Defence and other authorities concerned on the petition challenging the Bombay High Court decision rejecting the plea to preserve 'INS Vikrant' by converting it into a maritime museum.
The apex court will hear the matter in July.
Reports said Indian Navy in March had sold 'INS Vikrant' to the highest bidder, a Mumbai-based Ship breaking company - IB Commercial - for Rs 63 crore, much above its reserve bid of Rs 3 crore. The plan, in the deal, is to pull it down part-by-part and sell it as lucrative scrap.
The ship's last day at berth off Mumbai coast was on May 20. It was built in England well before the end of World War-II and the Indian Navy had bought it in 1957.
The ship was decommissioned in 1997 and about a decade later, it was turned into a maritime museum, berthed in Mumbai harbour.
In the High Court, the Maharashtra government argued that the project of having a maritime museum on the ship was not viable considering the expenditure involved, while the Centre had submitted that the ship's life was over and, therefore, it would be dangerous to house a museum on the carrier.
A PIL filed by Kiran Paigankar had also sought a direction to the Union government to not auction off the ship as scrap and preserve it as maritime museum.
The petition had also sought quashing of the tender issued by the Ministry inviting bids for converting the ship into scrap.
Image: INS Vikrant in 1984
Photographs: Wikimedia Commons