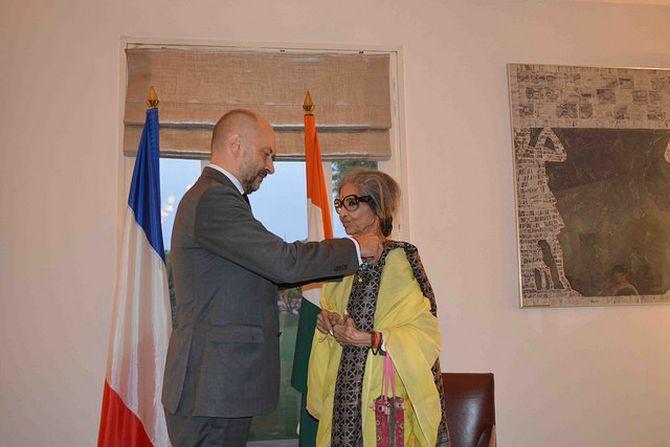 Mahatma Gandhi's granddaughter Tara Gandhi Bhattacharjee has been decorated with one of France's top honour The Order of Arts and Letters for her contribution in promoting peace, solidarity, culture, education, and development.
On behalf of the French President, Bhattacharjee, 82, was conferred the Officier de l'Ordre des Arts et Lettres (Order of Arts and Letters) honour in New Delhi on Wednesday by French Ambassador Francois Richier.
Accepting the award Bhattacharjee said there was need "to learn the fearlessness of Gandhi."
"The fearlessness of Gandhi was different. His was made of love and compassion. I remember his room, his doors were always open. One hardly had to take an appointment to meet him.
"I remember politicians coming out of the room saying they disagree with his view. They probably didn't change their view, but did become his friends for sure. That's the fearlessness we need today," she said.
"This honour comes in recognition of Bhattacharjee's remarkable work for promoting peace, solidarity, culture, education, and development through her commitment to perpetuating the memory and legacy of her grandfather, Mahatma Gandhi," a statement by the embassy said.
The daughter of late Devadas Gandhi and the late Lakshmi Devadas Gandhi, is the widow of the late Jyoti Prasad Bhattacharjee, a leading economist.
For the past 28 years, she has been working for the Kasturba Gandhi National Memorial Trust, founded by Mahatma Gandhi in memory of his wife to serve needy women and children of rural India.
The L'Ordre des Arts et des Lettres (Order of Arts and Letters) is a French government distinction for "persons who have distinguished themselves by their creativity in the field of art, culture and literature or for their contribution to the influence of arts in France and throughout the world."
Some noted Indian recipients of this honour in the past include Bharti Kher, Subodh Gupta, Shahrukh Khan, Pt Hariprasad Chaurasia, Aishwarya Rai, Raghu Rai, Ebrahim Alkazi, Habib Tanveer, and Upamanyu Chatterjee.
Image: French Ambassador Francois Richier conferred Officer of the Order of Arts and Letters on Tara Gandhi Bhattacharjee. Photograph: French Embassy