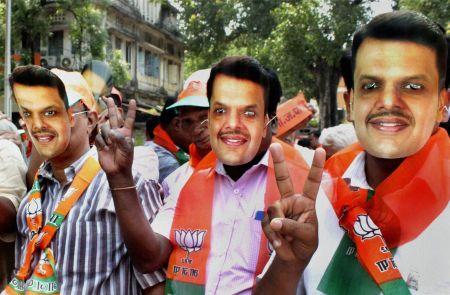 Amidst snakelike political manoeuvrings for government formation in state, Devendra Fadnavis still remains top contender for CM post, say sources.
Even as the Bharatiya Janata Party and Shiv Sena's political parleys over government formation in Maharashtra continue, serious political muscle flexing is on over who will be the next chief minister of the state.
This became evident after Union Minister Nitin Gadkari met nearly 40 newly-elected BJP MLAs in Nagpur on Tuesday. The MLAs apparently urged Gadkari to return from Delhi to lead his home state. However, this show of authority is misplaced say highly-placed sources in the party who deemed the Gadkari-MLA meet as a mere 'sideshow'.
Although Gadkari has officially denied any chief ministerial ambitions, his meeting with the BJP MLAs was being seen as the former BJP president aiming his guns at the Maharashtra bull's eye.
Both Fadnavis and Gadkari hail from Nagpur and enjoy the confidence of the Rashtriya Swayamsevak Sangh. Fadnavis emerged as a favourite for the chief minister's post after overcoming possible challenges from party veterans including Eknath Khadse and Vinod Tawde and sources say that he continues to remain the top contender for the chief ministerial spot.
On Tuesday, Gadkari met Union Finance Minister Arun Jaitley in Delhi and the two discussed the permutations available for government formation in Maharashtra. After the meeting, Gadkari left for Nagpur to hold discussions with RSS top brass on possible options.
The BJP sources added that getting its former ally Shiv Sena on board was a priority. However, political pundits have said that even if the BJP fails to get their estranged ally back on board, it might be willing to run a minority government with outside support from the Sharad Pawar-led Nationalist Congress Party and other independent candidates.
The NCP's unconditional support to the BJP, which analysts have called a masterstroke, have effectively killed Uddhav Thackeray's bargaining leverage with the Sena's former ally.
On its part, the Shiv Sena has deputed two senior leaders for discussions with the BJP leadership. Rajya Sabha member Anil Desai and senior Sena leader Subhash Desai arrived in Delhi on Tuesday to initiate formal discussions with top BJP leaders.
Meanwhile, the proposed meeting of the newly-elected BJP MLAs in Mumbai to elect their leader in the assembly has been postponed as Union Home Minister Rajnath Singh, who was appointed as an observer, has rescheduled his Maharashtra visit. "I am not going now. I think I will visit Mumbai after Diwali," Singh said.
Official BJP sources said an announcement on who will the next chief minister is expected soon.