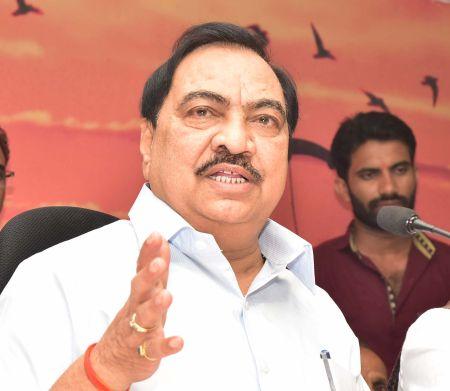 Facing a string of allegations including irregularities in a land deal, Maharashtra Revenue Minister Eknath Khadse on Saturday resigned, the first casualty in the Bharatiya Janata Party since the Narendra Modi-Amit Shah combine took over pledging zero-tolerance towards corruption.
Forwarding Khadse's resignation to Governor Ch Vidyasagar Rao, Chief Minister Devendra Fadnavis announced an inquiry by a retired high court judge into the allegations against him, as sought by the senior leader himself.
With his position becoming untenable after the central leadership sent a clear and stern message, the 64-year-old veteran from north Maharashtra drove on Saturday morning to Fadnavis's official residence to offer his resignation.
Later, after a point-by-point rebuttal of allegations at a press meet, Khadse went to Fadnavis's residence again to formally hand over his resignation.
"I have received Eknath Khadse's resignation. I have accepted it and sent it to Governor Ch Vidyasagar Rao. A retired high court judge will be appointed to probe charges against Khadse," said Fadnavis.
The fate of Khadse was sealed two days back after Fadnavis briefed Prime Minister Narendra Modi and BJP president Amit Shah in Delhi about the development and its possible fallout on the image of the ministry.
Allegations against Khadse were leveraged not only by the Congress, the Nationalist Congress Party and the Aam Aadmi Party to embarrass Maharashtra's first BJP-led government, but even ally Shiv Sena had come out in the open seeking his ouster.
Considered 'number two' in the Cabinet and in-charge of vital portfolios like revenue and agriculture, Khadse has been facing a series of allegations including irregularities in a land deal in Pune and of getting calls allegedly from fugitive Dawood Ibrahim's residence in Karachi on his mobile phone besides the alleged bribe sought by a personal aide.
He is in a spot over the purchase of a three-acre Maharashtra Industrial Development Corporation land in Pune allegedly at a low price of around Rs 3.75 crore from its original owner in the name of his wife and son-in-law. The market value of the land is reportedly Rs 40 crore.
Rubbishing the allegations at a press meet with state BJP chief Raosaheb Danve, Khadse said he had been a victim of an 'unprecedented media trial'.
Seen as the backward caste face of the party with a massive following in northern districts, Khadse said, "For the last 40 years, I have been in politics and the party but had not experienced a media trial like this."
Protests erupted in Khadse's home turf Jalgaon and his constituency Mutainagar where people took to the streets in support of the stalwart.
The Congress, however, said mere resignation would not do and a criminal case should be registered against Khadse.
"Mere resignation of Eknath Khadse with a simultaneous clean chit to him wouldn't put the lid over or do away the need for an independent probe into alleged Dawood Ibrahim terror connection," party's chief spokesman Randeep Surjewala said in New Delhi.