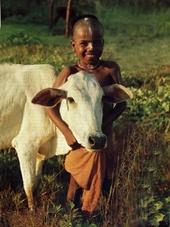 A bill, pending for many years, banning cow slaughter in Maharashtra received the President's assent, which means beef lovers will now have to do without red meat.
The bill has been in the making for almost 20 years – being initiated during the previous Bharatiya Janata Party-Shiv Sena government in 1995. The new act bans the slaughter of cows as well as bullocks, which was previously allowed based on a fit-for-slaughter certificate, according to the Indian Express. The new act will allow the slaughter of water buffalos.
"Thanks a lot honourable President sir for the assent on the Maharashtra Animal Preservation Bill. Our dream of ban on cow slaughter becomes a reality now," tweeted Maharashtra Chief Minister Devendra Fadnavis on Monday.
The punishment for sale or possession of beef could be jail for 5 years or an additional fine of Rs 10,000.
Kerala, Arunachal Pradesh, Meghalaya, Mizoram, Sikkim, Manipur, Nagaland and Tripura are the only states that permit cow slaughter.