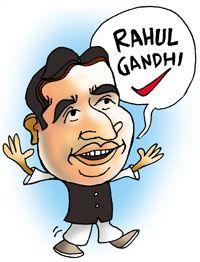 Is blood thicker than party loyalty for Varun Gandhi? Illustration: Uttam Ghosh/Rediff.com
Varun Gandhi, the BJP's Lok Sabha candidate from Sultanpur, startled his party leadership when he hailed first cousin Rahul Gandhi, who is contesting the election from neighbouring Amethi.
Following this, Smriti Irani, the BJP nominee from Amethi, lodged a complaint with Amit Shah, who is looking after party affairs in Uttar Pradesh at his mentor Narendra Modi's instance.
Irani thinks Varun's praise for Rahul will undermine her campaign against the Congress Veep.
This is not the first time Varun has got the BJP in a spot.
He once declared he would not campaign for Modi in view of the 2002 Gujarat riots.
Once Modi became the BJP's top gun, Varun lobbied with Amit Shah to make amends.
How will NaMo deal with Varun now?
Check out Poll Gupshup here