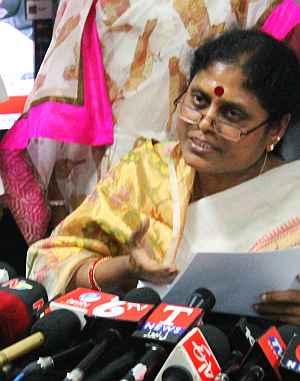 The YSR Congress's misreading of the urban voters and TDP's decision not to field a candidate and campaign for its ally BJP led to Vijayamma's poll debacle in Visakhapatanam. Vicky Nanjappa reports.

For the YSR Congress, the biggest defeat in the Lok Sabha elections was that of its honorary president Vijayamma, wife of former Andhra Pradesh chief minister Dr Y S R Rajasekhara Reddy and mother of party chief Jaganmohan Reddy.
Vijayamma was defeated by a huge margin by Haribabu of the Bharatiya Janata Party from the Visakhapatanam parliamentary constituency which has over 10 lakh voters.
Fielding Vijayamma from the Visakhapatanam constituency in coastal Andhra was believed to be a masterstroke by the YSR Congress Party. Jagan, who relies heavily on the Reddy and Christian vote base, chose to enter into Telugu Desam Party's territory with the hope of capitalising in areas other than Rayalaseema which is dominated by the Reddys.
Jagan had even positioned 300 of his men at this constituency to ensure that his mother won. He was extremely confident that his mother will sail through with the help of the rural votes as he felt that she would ride on the YSR sentiment.
Now all this went horribly wrong. The first signs of nervousness in the Jagan camp were witnessed when the TDP decided not to field any candidate from Visakhapatanam and left the seat entirely to its ally the BJP.
Had the TDP fielded a candidate here, the votes would have split for the BJP and this would have helped Vijayamma. However, that was not to be.
Jagan completely misread the situation where the urban votes were concerned. The urban electorate always has been with the TDP and the large number of North Indians in this constituency clearly voted for Narendra Modi.
During the polling it became evident that the urban voters from Gajuwaka, East and West Vizag, Vizag South, S Kota and Bheemli had come out in large numbers. Moreover, on polling day the urban sector polled more than the rural sector which made the big difference for Vijayamma's prospects.
The trends began to lean towards the BJP. However, Jagan was still confident that the 5.5 lakh rural votes would be polled in favour of his mother. But the TDP campaigned aggressively for the BJP and managed to split the rural votes which brought about Vijayamma's doom here.
Image: Vijayamma addressing journalists in Hyderabad
Photograph: SnapsIndia