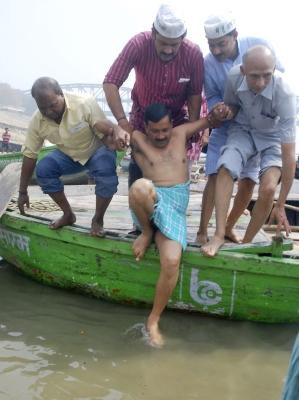 The Aam Aadmi Party leader took a dip in the Ganga, visited the Kashi Vishwanath temple before he opened his challenge to Narendra Modi. Sharat Pradhan reports from Varanasi.
A sworn atheist and an established non-conformist, Aam Aadmi Party chief Arvind Kejriwal turned religious on his arrival in the ancient Hindu city of Varanasi on Tuesday, March 25, where he will take on the Bharatiya Janata Party's prime ministerial hopeful Narendra Modi in an upcoming Lok Sabha contest.
From the moment Kejriwal arrived in Varanasi by train early on Tuesday he appeared gripped by Benarasi fever.
His day started with a dip in the Ganga at the legendary Dasashwamedh Ghat. Soon after, he walked to the Kal-Bhairon temple and then prayed at the famous Kashi Vishwanath temple.
To conclude his spiritual journey, the AAP leader drove down to the Sankat Mochan Temple foundation office at the far end of town to seek the blessings of the temple mahant and its trust chairman, Vishambhar Nath Misra.
Kejriwal spent a good 30 minutes with the mahant -- away from the media and public glare.
Asked what had turned an atheist into such a devout Hindu, the ever-smiling AAP leader said, "I must confess there is definitely something divine behind the success of our entire mission."
With sandal paste and vermillion smeared on his forehead and a rudraksh garland round his neck, Kejriwal added, "Right from the time we launched the India against Corruption campaign under Anna Hazareji to contesting the Delhi elections where we won an incredible 28 seats. There has to be some divine benediction if a political party rides on to power in less than a year of its formation."
Just as AAP enthusiasts raised chants of 'Kejriwal zindabad', a band of motorcycle-borne youth countered it, raising cries of 'Kejriwal murdabad.'
Ambrish Singh of the Yuva Hindu Vahini was arrested after he flung a bottle of ink on Kejriwal and his aides. The incident provoked a brief scuffle between AAP supporters and Hindu Vahini activists, who were lathi-charged and chased away.
Image: Arvind Kejriwal, helped by supporters, prepares to take a dip in the waters of the Ganga in Varanasi. Photograph: Reuters