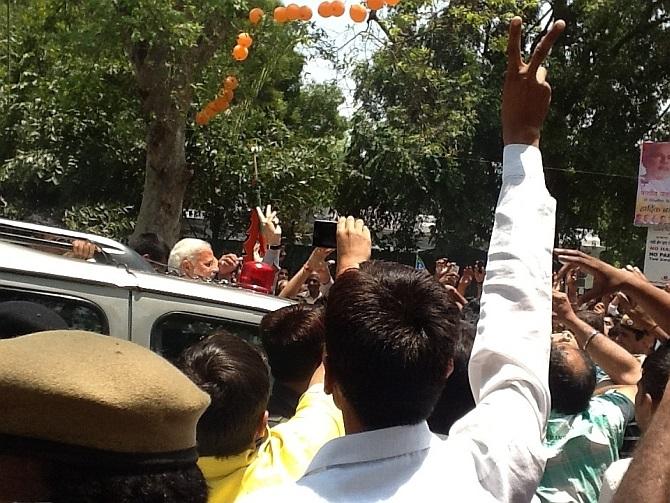 'He would wake up at 5 am and begin his day with a walk.'
'He would eat at the mess for BJP workers.'
'He never used the party's cars and always was chauffeured in a private car.'
On May 17, a day after his historic victory, Narendra Modi returned triumphantly to his old home at Ashoka Road where he lived as the party general secretary in the late 1990s. A Ganesh Nadar/Rediff.com meets folks who worked with him in the capital at that time. A rare glimpse of our next prime minister.
For some time in the late 1990s Narendra Modi lived at 9, Ashoka Road, adjacent to the Bharatiya Janata Party's national headquarters in the capital. Then a party general secretary, he stayed there till 2001 when he was sent to Gujarat as chief minister.
"He would wake up at 5 am and begin his day with a walk in the park," remembers Tejpal Singh, now the BJP's district president in New Delhi's Mayur Vihar area. "Sometimes, he gave appointments at that early hour. Sometimes, people would talk to him in the park."
"He worked through the day and would go to sleep at 10 pm," Singh, right, below,, adds. "Even if he had gone to bed and someone came to meet him, he would get up and receive them."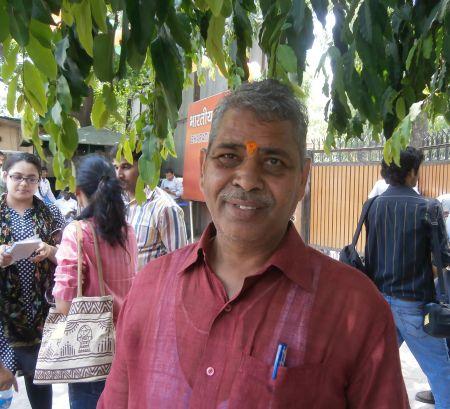 Balwant Singh, another member of the BJP staff at that time, remembers, "He used to eat in the mess that Govindacharya (then, a BJP secretary), used to run for party workers."
"He never used the party's cars that were available to him," recalls a driver at the BJP HQ. "He always used a private car, which his friend would provide."
Party workers recall Modi doing yoga regularly, but no one had actually seen him doing it. Others recall that he was very hard working and everyone depended on him to deliver.
Some said even though he was found to be intrusive and interfering, no one questioned him as he was trusted by the party's senior leaders.
Modi was one of those in charge of the 1999 election campaign when Atal Bihari Vajpayee led the National Democratic Alliance to victory and the NDA, for the first time, completed a full term in office.
Other workers say his transition to Gujarat was inevitable as he always kept a close watch on Gujarat politics.
Images: Top: A triumphant Narendra Modi arrives at the BJP's national headquarters, May 17, 2014. Photograph: Vaihayasi Pande Daniel/Rediff.com. Bottom: Tejpal Singh says Modi would always accommodate people, early in the morning or even late at night. Photograph: A Ganesh Nadar/Rediff.com