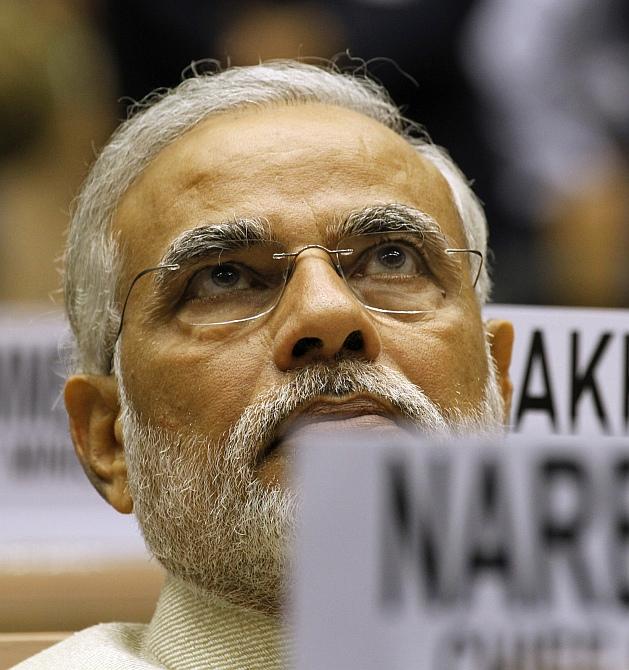 Even as India gears up for the election results on May 16, a group of senior Bharatiya Janata Party leaders have taken up an informal initiative to see what a Modi ministry will look like, in case the party forms the government at the Centre.
A think-tank appointed by the Bharatiya Janata Party's prime ministerial candidate Narendra Modi, which comprises former bureaucrats who once served with then prime minister Atal Bihari Vajpayee and then deputy prime minister L K Advani, has been providing the leaders with innovative suggestions on what the new government should do.
The basic structure of this group is to revamp the existing approaches to solving problems.
According to a source, Modi does not believe in an Empowered Group of Ministers or a Group of Ministers to work out solutions to existing problems.
Modi feels that during the United Progressive Alliance's rule, there was a dual power centre, and ministries never had solutions. He is determined to set a new working environment in South Block.
According to the new mandate, bureaucrats will get complete authority and power to deal with the policies enunciated in the BJP's election manifesto.
Highlights:
Mergers and de-mergers of at least top eight Union ministries are on the cards.
A new look is being considered for the Union ministries of finance, commerce, home, tourism and railways.
A three-page report by the think-tank suggests merging of certain Union ministries and creating a new department and abolishing certain older versions.
The Directorate General of Foreign Trade to be withdrawn from the Union ministry of commerce and merged with the ministry of external affairs.
The ministry of corporate affairs to be absorbed by the ministry of finance.
The Railway Board to monitor a new department under the Union ministry of railways to prepare a blueprint for six bullet trains like those in China. These trains to be introduced in four years, with collaboration from Indian Railways and foreign investments.
Tourism to get prime position in the new government.
A new department in the Union home ministry to monitor the day-to-day coordination between the PMO and offices of the chief ministers of the 29 states. There would be a chief secretary-level official to coordinate and present a daily report to the prime minister.
The ministry of water resources to get a new name and an additional department carved out from the ministry of agriculture and rural development.
Modi's strategy is to involve chief ministers of borders states like Rajasthan, Gujarat, Punjab etc, whenever there is a discussion of the Cabinet Committee on Security. If there is a resolution, special invitee status will be considered for the chief minister of the concerned state. For example, on a discussion on the issue of fishermen would have chief ministers of Kerala and Tamil Nadu as special invitees.
Chief ministers of states to have weekly interaction with national security agencies.
Popular programmes of the United Progressive Alliance like the Mahatma Gandhi National Rural Employment Guarantee Act, to be reviewed and revamped.
Image: Gujarat Chief Minister and the Bharatiya Janata Party's prime ministerial candidate Narendra Modi. Photograph: B Mathur/Reuters