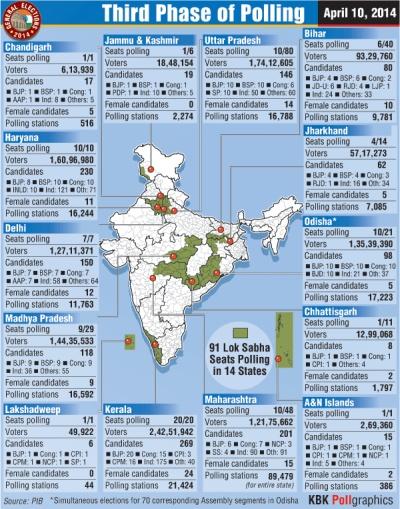 The first substantial round of polling in the Lok Sabha elections began on Thursday, involving nearly 11 crore voters in 92 seats spread across 11 states, including Delhi and the national capital region and the riot-hit Muzaffarnagar.
This will be the third round in the nine-phased elections which began on April 7 and will conclude on May 12. Thursday's round will also cover three Union Territories.
PHOTOS: World's biggest show of democracy begins
Delhi
Bettering the 2009 turnout, Delhi today recorded an impressive 64 per cent polling in the battle for seven Lok Sabha seats where BJP appeared to be riding a 'Modi wave' against challenge from fledgling AAP and a struggling Congress.
Delhi Election Commission officials said 64 per cent of 1.27 crore eligible voters exercised their franchise till 6 pm, a 12 per cent increase over the previous elections.
The polling percentage may go up slightly as people ere still in queue in various areas even after the deadline or voting ended.
There are 29 contenders from New Delhi constituency, the highest for any seat, while the lowest of 14 is in North West seat.
Sonia, accompanied by Maken and Delhi Congress chief Arvinder Singh Lovely, came to the polling station at Nirman Bhavan in Central Delhi at around 9:30 am and went straight inside the booth to vote as there was no queue.
She is a voter in the New Delhi constituency from where Maken is contesting to retain the seat for the third consecutive term.
Talking to reporters Maken, who is contesting from prestigious New Delhi constituency, exuded confidence of regaining support of the Congress votebank which he said had gone to the AAP in the Assembly polls four months back.
"People who voted for Arvind Kejriwal were traditional Congress voters who will vote for us this time. We will win all seven seats. There is no Modi wave," Maken told reporters.
Maharashtra
62.3 per cent voting was recorded in the ten Lok Sabha constituencies in Vidarbha region of Maharashtra where polling was held today, State Election Commission sources said.
No incident of violence was reported in this first phase of elections in the state. The polling was mostly peaceful even in the Naxal-affected Gadchiroli district, they said.
Final polling percentages in the ten constituencies were as follows: Buldhana: 58.66, Akola: 65.00, Amravati: 65.00, Wardha: 61.00, Ramtek: 62.00, Nagpur: 59.00, Bhandhara-Gondiya: 65.00, Gadchiroli-chimur: 65.00, Chandrapur: 63.00 and Yavatmal-Washim: 60.00

Uttar Pradesh


Nearly 65 per cent voting was recorded in 10 Lok Sabha constituencies of western Uttar Pradesh including riot-hit Muzaffarnagar, polling for which passed off peacefully.
The voting percentage saw a 14 per cent rise from 51.30 per cent in the 2009 Lok Sabha polls. It was 61.78 per cent in the 2012 Assembly polls.
As many as 68.27 per cent of the electorate including hundreds of riots victims exercised there franchise in Muzaffarnagar.
Haryana; Chandigarh
Barring stray incidents, polling remained peaceful in 10 Lok Sabha seats in Haryana which witnessed healthy voter turnout of over 74 per cent and Union Territory Chandigarh created a record of highest ever poll percentage of nearly 72 per cent.
Polling began on a slow note in Haryana this morning but picked up pace as the day progressed and heavy voter turnout was witnessed at various places including Kurukshetra and Sirsa.
"Over 1.6 crore eligible voters were to cast votes in the state," officials said, adding that polling was by and large peaceful.
Long queues were seen outside the booths at most of the places in Haryana, where polling was held in single phase and lone Lok Sabha seat of Chandigarh.
Kerala
About 74 per cent of 2.43 crore voters exercised their franchise to elect 20 Lok Sabha members from Kerala, where the principal fight is between the ruling Congress-led UDF and the CPI(M)-led LDF.
According to figures put out by the Election Commission shortly before the polling ended, 73.2 per cent of voters turned up in 21,424 polling stations across the state.
But in many places, voters were queuing up after the 6 pm deadline, as a result of which the final polling percentage is expected to be slightly higher.
Polling was by and large peaceful, barring a minor clash between IUML and CPI(M) activists at Thalora in Thaliparamba assembly segment under Kannur Parliamentary constituency, which left three persons injured.
Bhubaneswar/Patna/Ranchi/Port Blair
There was a voter turnout between 67 and 55.9 per cent for the 21 Lok Sabha seats in three states and a union territory, besides 70 Assembly constituencies in Odisha in eastern India, even as two CRPF jawans were killed and seven injured in a Maoist attack this morning in Bihar.
Odisha recorded the highest of 67 per cent for 10 Lok Sabha and 70 Assembly seats, Jharkhand 58.3 for four LS seats, Andaman and Nicobar Islands 55.9 per cent for one LS seat and Bihar the least with 53 per cent for six LS seats.
In Jharkhand, Maoists exploded a series of land mines in the forests of Latehar district and exchanged gunfire with security personnel before polling began in the Chatra LS seat, but there was no casualty, Latehar Superintendent of Police Michael S Raj told PTI.
Srinagar
The Jammu parliamentary constituency recorded 68 percent of voting on Thursday.
The polling was incident free and began on a brisk note with people including women queuing up well before the polling began at 7 am.
Chief electoral officer, Umang Narula said 70 percent votes were cast in Jammu district, 75 percent in Samba district and figures of polling are being received from Rajouri and Poonch districts, which would add up the final poll percentage tally subsequently.
Addressing a news conference, Narula said the polling was held in a peaceful atmosphere.
He said 10, 000 personnel were detailed for election duty and 800 vehicles were used to ferry them and poll material.
Narula said a total of 2,274 polling booths were set up at 1,582 locations out of which 68 were declared as critical. He said 2274 electronic machines were used for the purpose.
He said video recordings were also done to ensure free and fair polls.
The CEO said 19 candidates were in the fray for the constituency which comprised 18,48,553 number of electors including 871,212 female and 977,328 male voters.
In the next round of polling scheduled for April 17, elections will be held for Udhampur constituency where the Congress candidate and union health minister, Ghulam Nabi Azad is locked in a triangular contest. The main contest, however, is between Azad and the BJP candidate, Dr Jatinder Singh. (Reportage: Mukhtar Ahmad in Srinagar)