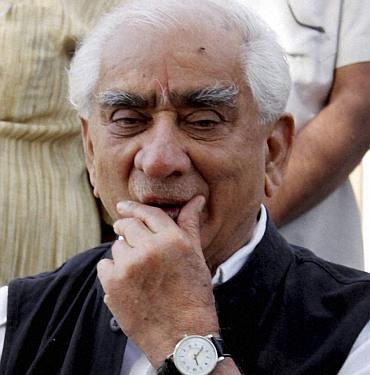 Defying the Bharatiya Janata Party, its senior leader Jaswant Singh on Monday filed his nomination papers as an independent candidate from Barmer Lok Sabha seat and attacked party president Rajnath Singh and Rajasthan Chief Minister Vasundhara Raje, accusing them of "betraying" him.
"Who are the people who have hurt you? One is the BJP president who has hit me for the second time. The conspiracy was hatched by Vasundhara Raje. I say with regret and pain that these two people have sort of betrayed me, cheated me. The betrayal is not with Jaswant Singh alone but with the BJP's principles and ideologies," he said while addressing supporters after filing his nomination.
Though the 76-year-old leader launched a stinging diatribe against Singh and Raje, he made no mention of the party's prime ministerial candidate Narendra Modi.
As BJP president in 2009, Rajnath Singh had expelled him from the party in a manner in which even a "peon" should not be sacked, Jaswant Singh said, adding that he got carried away by emotions when he came back to the party fold.
The former Union minister said he had informed Advani almost 18 months ago of his wish to contest his last election from his hometown Barmer and then told Rajnath Singh a few weeks ago.
"No announcement was made about Barmer in the first few meetings (of the BJP's Chief Election Committee). I called up Rajnath Singh. He informed me the next day that I won't be given a ticket. Who was given a ticket? Not a BJP worker but somebody who joined the BJP from the Congress and had been abusing us till recently. I was very hurt," he said.
Congress defector Sonaram Choudhary has been given the BJP ticket from Barmer.
Singh recalled his long association with BJP's founder leaders Atal Bihari Vajpayee and L K Advani and lamented its current state of affairs.
"I have taken a step for Barmer. Relief is what I am feeling right now," he said.
"I am contesting on principles and for honour, not just for my honour but for the honour of all citizens of Barmer," he said.
Jaswant Singh claimed that the BJP was no more a party of principles and was being encroached upon by outsiders.
"There is no place for values and principles in the BJP anymore, which once were central to the party. Its chaal, charitra, chehra (tactics, character and appearance) are changing in new hands," said the rebel leader.
Singh has arrived in Barmer from his ancestral village Jasol on Monday afternoon, along with his wife and supporters, and headed straight to the collectorate to file the nomination.
Addressing the gathering at Adarsh Stadium, with a huge poster of him and former prime minister Vajpayee in the background, he said that it was time to give a befitting reply to Rajnath and Raje.
"Rajnath had assured me that I will be given a ticket from Barmer but he reneged upon his promise," said Singh.
Referring to Raje, he claimed it was he who had paved the way for making her the chief minister of the state but "out of jealousy, she conspired with other leaders to put a cross on my name".
Jaswant Singh's earlier three terms in Lok Sabha have been from Jodhpur, Chittorgarh (Rajasthan) and Darjeeling (West Bengal).
The veteran BJP leader had on Sunday made his intentions known, saying he was "not a piece of furniture" to be "adjusted" after polls and warned that the party will have to suffer the consequences of the internal strife coming to the fore ahead of the Lok Sabha polls.
BJP leader Arun Jaitley had said that Singh should accept the decision with a smile as it was a test of his loyalty.