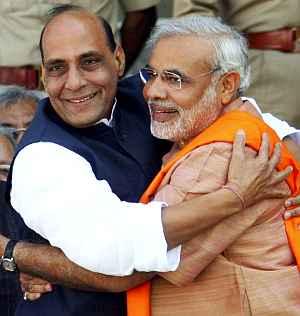 The party leaders are confident the NDA will achieve the majority mark of 272, reports Archis Mohan.
Encouraged by the trends in the three phases of polling and the turnout at its prime ministerial candidate Narendra Modi's rallies, the Bharatiya Janata Party (BJP) believes the National Democratic Alliance led by it will not need any more allies to form the next government at the Centre.

BJP leaders are confident the 28-party NDA will get 272 seats and are dismissive of patriarch L K Advani's warning in January that the party should guard against becoming overconfident.
Party leaders defended Modi's attacks in the past two days on potential post-poll allies West Bengal Chief Minister Mamata Banerjee and Odisha Chief Minister Naveen Patnaik.
According to BJP's Venkaiah Naidu, the BJP will get a comfortable majority on its own. "It is evident to us from the three phases of polling that there is a wave in favour of the party," he said, adding the party did not need any more allies.

Naidu dismissed reports that the party was trying to reach out to such allies as Ajit Singh-led Rashtriya Lok Dal, Banerjee-led Trinamool Congress or Patnaik's Biju Janata Dal.
The BJP is convinced its main rival, the Congress, has also read the writing on the wall and has, therefore, brought down the poll discourse by starting to attack Modi's personal life.

On his part, Modi has also been aggressive in his attacks on both Patnaik and Banerjee in the past two days. On Friday, Modi addressed public rallies in Balasore, Keonjhar and Talcher in Odisha.
He criticised Patnaik's inability to speak, read and write Odia, saying: "The man who does not understand your language or feel your miseries and pain, cannot give you a good government."
Modi asked the audience whether their CM ever meets them. "Do you need such people? You have tolerated a person for 15 years who does not understand your language. You have given Madam Sonia 10 years at the Centre and his (Patnaik's) government 15 years. Give me 60 months."

On Thursday, Modi had slammed the Trinamool-led West Bengal government. He called Banerjee's ''paribartan'' (change) a hoax. In Siliguri, Modi said no change had taken place in Bengal under Trinamool and that the government had only indulged in vote bank politics.

He said Banerjee cannot digest her food if she doesn't criticise him. Modi's Siliguri speech was in stark contrast to his speech in February at Kolkata's Maidan. He had then said people of Bengal should have "Didi in Bengal and BJP in Delhi".

Advani, at the party's national council meeting in January in New Delhi, had warned the party leadership that they shouldn't get overconfident. He had said the party lost in 2004 because it was overconfident.

Clearly, not many in the BJP are paying any heed to the patriarch's cautionary words. The party leadership is convinced the voting trend in the three phases so far, particularly the 91-seats that went to polls on Thursday, has been in its favour.
Image: BJP's PM candidate Narendra Modi with party president Rajnath Singh