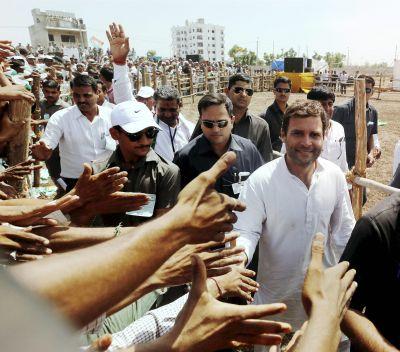 'All the hoardings showed only Rahulji. No pictures of Indiraji and Rajivji. What is the Congress's worth without its history? It is unthinkable that none of our hoardings shows Indira and Rajiv.'
As it confronts a likely electoral debacle, Congressmen are starting to question the party's almost 'apolitical' campaign.
Muted protests have begun to be heard in the Congress party a fortnight before the results of Election 2014 arrive on May 16.
Jairam Ramesh, the Union minister for rural development, Deep Kaul, son of the late diplomat T N Kaul, and Suman Dubey, the former journalist and an old friend of the Gandhi family, are being blamed for the fiasco of the election campaigns of Rahul Gandhi, the Congress and the United Progressive Alliance government.
In February, the Congress announced the setting up of a 50-member election campaign committee, with Sonia Gandhi as chairperson and Rahul Gandhi as co-chairman.
It had a galaxy of Congress leaders as members: Dr Manmohan Singh, Motilal Vora, A K Antony, Sushil Kumar Shinde, Ahmed Patel, Janardan Dwivedi, P Chidambaram, Ghulam Nabi Azad, Ashok Gehlot, Ambika Soni, Digvijaya Singh, C P Joshi, Madhusudan Mistry, Ajay Maken, Mohan Prakash, Anand Sharma, Kamal Nath, Salman Khurshid, Captain Amarinder Singh, Ajit Jogi, Kumari Selja, Satyavrat Chaturvedi, Jairam Ramesh, Jitendra Singh, Manish Tewari, Randeep Surjewala, Rajiv Shukla, V Narayanaswamy and Jyotiraditya Scindia.
The committee met just once.
Before Rahul Gandhi's office finalised the multi-million rupee Congress advertising campaign, neither was specific advice sought from the campaign committee nor was the final campaign shown to it for approval. Rahul Gandhi's office handled the entire campaign without taking inputs from the experienced Congressmen.
"The campaign committee was not at all involved in the actual campaign," a Congress leader told Rediff.com "It is sensational that the Congress is fighting a war against the BJP and its PM candidate Narendra Modi with a retired general leading our front. Prime Minister Manmohan Singh has hung up his boots, but we have not declared our PM candidate."
"As we created a vacuum in the slot of our PM candidate, the entire 10 years of anti-incumbency has been transferred to Rahul Gandhi's account. Poor Rahul is bearing the brunt of all the ills of UPA I and II for no fault of his," this Congress leader said.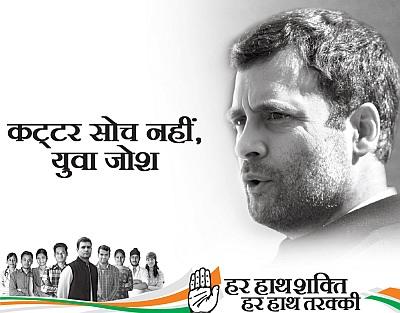 Revealing what went wrong in the Congress campaign, the Congress leader continued, "Rahul's advisors like Mohan Gopal thought it fit to use the most crucial time of early summer in ferrying Rahul all over India to meet coolies, womenfolk, boatmen, fishermen, salt pan workers and what not. How can you create political thunder by meeting select groups of 400 people?"
"Then came the advertisement where there was no connect with Congress history. All the hoardings showed only Rahulji. No pictures of Indiraji and Rajivji. What is the Congress's worth without its history? It is unthinkable that none of our hoardings shows Indira and Rajiv. It was a total fiasco to see that many advertisements were in black and white. In such competitive politics, how can you experiment?"
"Jairam Ramesh, Suman Dubey and Deep Kaul handled the campaign to establish Rahul Gandhi's leadership for the 2014 election," the Congress leader added, "but they seem to be having their own ideas of the ground realties."
Kaul had shared an apartment with Rajiv Gandhi during their Cambridge days. Dubey, who was at Doon School with Rajiv Gandhi, was also his media advisor. Ramesh has off and on been an advisor to Rahul Gandhi. Congress leaders are very upset with this trio for making the Congress advertising campaign almost apolitical.
Any campaign has to put forward the best features of the government and its leaders, points out the Congress leader. The entire Congress campaign on television and in print, the leader adds, is generic in nature, lacks charisma and does not communicate anything loud and clear.
Image: Congress Vice-President Rahul Gandhi hits the campaign trail. Photograph: PTI Photo.