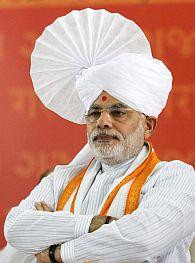 A highly-placed source in the BJP told Rediff.com, "Just as the Sangh dislikes the pseudo-secularism of the Congress, the Sangh also has a distaste for the pseudo Hindutva that the BJP is trying to practise in maddening race for power."
The Bharatiya Janata Party stands divided over the induction of Sabir Ali, a former Janata Dal-United member, into the party. Backing the anti-Ali camp is the party's ideological mentor -- the Rashtriya Swayamsevak Sangh.

It has swiftly swung into action to ensure that Ali, who has been linked to the Indian Mujahideen founder Yasin Bhatkal (BJP vice president M A Naqvi tweeted this on Friday), is not allowed to settle in the saffron party. Following pressure from the RSS, his membership of the BJP was revoked on Saturday.

Read: Prove my links to Bhatkal, dares Sabir Ali

A highly-placed source in the BJP told Rediff.com, "Just as the Sangh dislikes the pseudo-secularism of the Congress, the Sangh also has a distaste for the pseudo Hindutva that the BJP is trying to practise in maddening race for power."
Ali, who was a Rajya Sabha member of the JD-U, has reportedly been under the scanner of intelligence agencies for years now.
Almost three decades ago, when he was around 30 (he is now 58), Ali had acquired huge properties in Mumbai. His gains in the city were attributed to his alleged links with the underworld. He is also chairman of the Iffat Charitable Trust since 2006, which is said to be flush with money.
It's believed that Bihar's former deputy chief minister Sushil Kumar Modi and veteran leader Dharmendra Pradhan, in-charge of the BJP in the state, executed the induction of Ali. He was considered Nitish Kumar's link to the minorities in and around Raxaul, East Champaran. The aim to induct Ali was to hit the Bihar CM's minority base in East Champaran, an argument not acceptable to the Sangh.
There was dissent in the BJP hours after Ali's entry with BJP vice president Naqvi tweeting the unthinkable, 'Terrorist Bhatkal friend joins BJP…soon accepting Dawood….'
The tweet prompted a lot of unsubstantiated material coming to the fore against Ali, linking him to Mumbai's underworld don Dawood Ibrahim and Bhatkal.
On Saturday, RSS national executive member Ram Madhav made public the Sangh's opposition by tweeting, 'Sabir Ali's induction has caused great resentment. Party leadership has been apprised of d strong views of d cadre n people agnst it.'
This clearly indicated that the top leadership of the RSS had made their reservations against Ali clear to BJP chief Rajnath Singh and other leaders.
On the eve of elections, the BJP has been following a pattern of sorts when it comes to the induction of outsiders.
Rebel Congress leader from Harayana, Venod Sharma, wasn't allowed to join the party, but Jagdambika Pal, also a Congress defector, was given a place.
Ram Sene chief Pramod Mutalik from Karnataka wasn't allowed to settle down either. Many BJP loyalists claim that Mutalik was sent back following pressure from secularists, but the party under Rajnath and Narendra Modi has no qualms in accepting Ali, whose connection with the terror network has been always under the scanner.
Image: BJP's PM hopeful had no hesitation in inducting Sabir Ali in the party