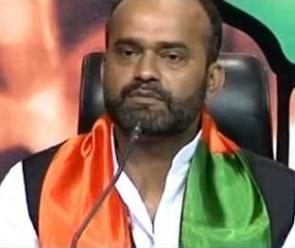 Sabir Ali's membership was annulled by the BJP after facing opposition from party leadership and the RRS. Vicky Nanjappa reports
The rift in the Bharatiya Janata Party over the induction of Sabir Ali, a former Janata Dal-United member, is out in the open.
After growing dissidence within the BJP, even its ideological mentor Rashtriya Swayamsewak Sangh has expressed displeasure over the new entrant. Under pressure from various factions, the party annulled his membership.
Ali, who has been linked to terrorist Yasin Bhatkal, on Saturday, said that the allegations were baseless.
"People should think before they make allegations. Before making allegations be sure of the facts. I dare anyone to come forward and prove these allegations against me," he told rediff.com.

Anger over Ali's induction was first expressed by BJP's Vice President Mkhtar Abbas Naqvi. "Terrorist Bhatkal friend join BJP...soon accepting dawood...," he had tweeted on Friday.
Reacting to the post, an upset Ali said, "I have nothing personally against any body. Naqvi is like an elder brother to me. If the charges against me are proven, I will quit politics."

"I do not want any bad blood between party members. Hence, I have told the state unit of the BJP in Bihar to put my membership on hold until this issue is cleared."
Ali said that he had no idea how the rumours surfaced. "My induction in the party was not a secretive affair. I fail to understand why these allegations cropped up all of a sudden."
Refusing to comment over the politics in the BJP over his entry, he said that he wanted the party to probe allegations of his terror links. "I shall wait until then and believe me if these allegations are proved, I assure that I shall never contest an election in the future. I did not come into the BJP to cause a rift. I sincerely wanted to work for the party and ensure that it does well. This is disappointing, I have nothing to fear."
Talking about his expulsion from Nitish Kumar's JD-U, he said, "I praised Narendra Modi because he is a good leader. I did no wrong and there was no political motive behind it. I have no regrets."

Image: Sabir Ali asks the party to probe allegations against him