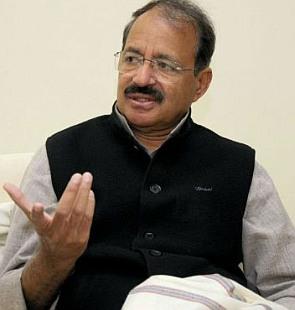 Senior Congress leader Rashid Alvi on Monday joined the party men who have offered to contest against Bharatiya Janata Party's prime ministerial candidate Narendra Modi from Varanasi Lok Sabha seat.
"For the first time, the idea of secular India is under threat.... I would request you to permit me to contest against Modi from Benares", Alvi, a former AICC spokesman, said in a letter to party chief Sonia Gandhi.

AICC General Secretary Digvijay Singh had also offered to contest against Modi in Varanasi so also Union Minister Anand Sharma.
Expressing confidence that this illustrious city would support him to strengthen the secular Indian values, Alvi said the "victory of Congress will be the victory of India".
Noting that Varanasi still upholds the values of Indian subcontinent, he said that it has played a crucial role in forging Indian plural identity. "It belongs to both Hindus, Muslims, Jains and Buddhists. Mughal emperors used to visit Banaras to learn from the learned Brahmins".
Talk is that Congress could finally settle for a local candidate to take on Narendra Modi in Varanasi.
Party sources said a decision will be taken "very soon" on the candidate and a local could be asked to face BJP's prime ministerial candidate.
Rajesh Mishra, who had represented the seat from 2004-2009, and Ajai Rai are the two local contenders for the party ticket for the constituency which goes to polls on May 12.

Party leaders earlier declared that a "formidable" candidate will be fielded against Modi and there was no question of supporting any other party in the seat.

AAP convenor Arvind Kejriwal is also contesting from the seat.
The party has already fielded AICC General Secretary Madhusudan Mistry, a close aide of Rahul Gandhi, to take on Modi in Vadodara, the second Lok Sabha seat from where BJP's prime ministerial candidate is contesting.