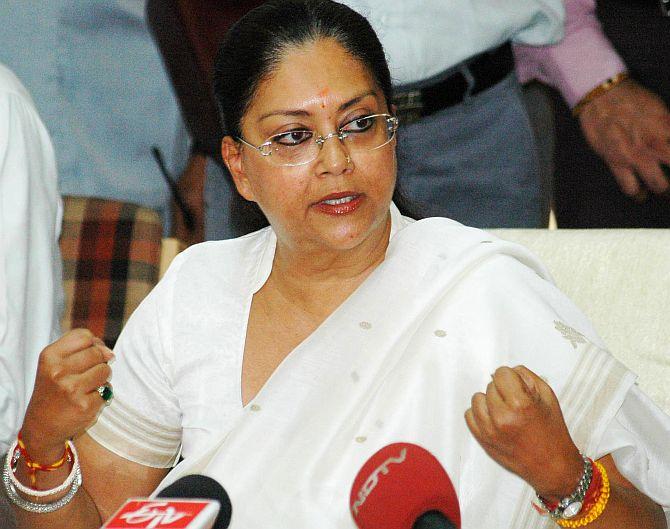 Hitting back at the Congress after its Saharanpur leader Imran Masood threatened to chop Narendra Modi to pieces in a hate speech, Rajasthan Chief Minister Vasundhara Raje said the Lok Sabha results will clearly show who will be cut to size and who will be the winner.
"A Congress candidate from Uttar Pradesh has said that he will chop off Modi. You will see who will be cut to size after elections," Raje said at a rally in Karauli during which she sought support for party candidate Manoj Rajoria. Masood was arrested on charges of making a hate speech.
"The Congress leaders are frustrated because of the Modi wave. Its candidate Madhusudan Mistry, who is contesting against Modi has been tearing his posters. This clearly reflects his frustration," she said.
Addressing another rally in Bikaner, Raje alleged that Congress president Sonia Gandhi's son-in-law Robert Vadra purchased land in Bikaner at throwaway prices and reaped huge profits.
She said it happened just because the Congress was ruling the state when the land was purchased in the name of certain companies. "Who prospered in Congress rule? Only Sonia Gandhi's son-in-law and not public," she added.
"Being a chief minister and sitting on a constitutional post, how can Raje threaten somebody?" questioned Congress spokesperson Archana Sharma. "The Election Commission should taken action against her just like the action was taken against Masood," reacted activist Nisha Sidhu.
with inputs from PTI