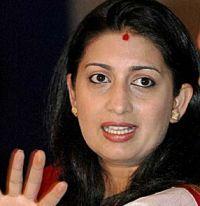 The Bharatiya Janata Party candidate from the Amethi Lok Sabha seat Smriti Irani on Monday attacked Congress vice president Rahul Gandhi for the lack of development in the constituency, saying he has betrayed people after promising them progress.
"Development is not visible in Amethi. Rahul has done nothing to develop the area," Irani, said while addressing a series of nukkad sabhas during her road show.
She said, "Rahul could not provide jobs to youth despite remaining in office for ten years. The people of Amethi have now recognised him. He has betrayed them in the name of development."
Irani, who will be addressing 22 nukkad sabhas in the day, was accorded a warm welcome by party workers. Irani said there is Modi wave everywhere in the country as the people, who are frustrated by inflation and corruption, want to bring a change.
With Irani's entry, the contest in Amethi is triangular now. The Aam Aadmi Party has earlier fielded Kumar Vishwas from the seat. The Amethi Lok Sabha seat goes to poll on May 7, in the penultimate phase of the nine phase general election.