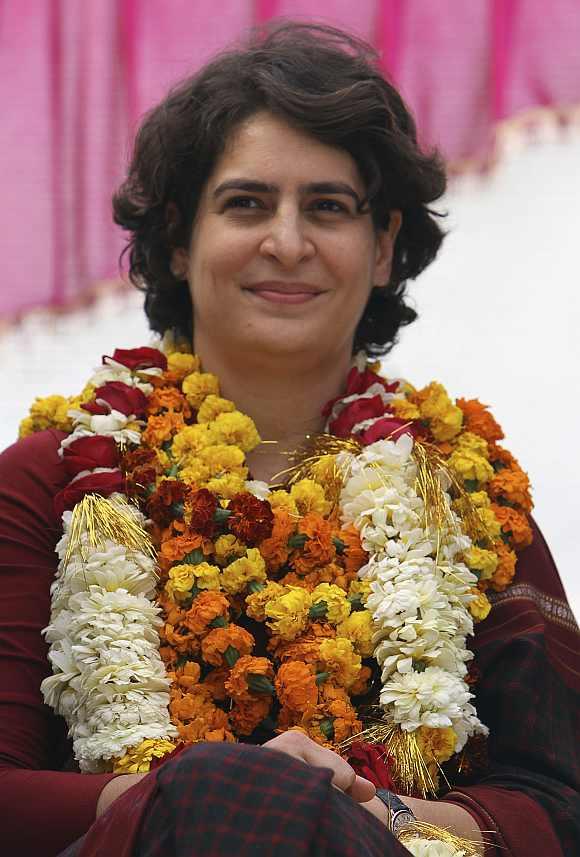 Priyanka Gandhi on Tuesday came out in support of Prime Minister Manmohan Singh calling him the 'super prime minister' in the United Progressive Alliance, amid the storm created by Sanjaya Baru's tell-all book that raised questions over the political authority of the prime minister.
Campaigning for Rahul Gandhi in his constituency, the 42-year-old defended the party, which is facing criticism in the wake of claims made in the book that Sonia Gandhi was the remote control in the UPA government and that Manmohan Singh played second fiddle to her. "Only Manmohan Singh was super PM," she said responding to reporters quoting Baru's book in which he had written, 'It is no secret that Sonia Gandhi was the super prime minister.'
When asked about Congress President Sonia Gandhi's appeal on various TV channels on Monday night, Priyanka said, "Whatever the Bharatiya Janata Party might say, the fight of India's heart is going on (in this election)." However, she did not elaborate.
In her appeal on Monday night, Sonia Gandhi said that the current Lok Sabha elections was a fight to protect 'the very heart and soul of India' from those who want to divide the people of this country.
Without naming either Narendra Modi or the BJP in her telecast, Gandhi had said, "We want unity. They want to impose uniformity. They say, 'Just believe in me'."