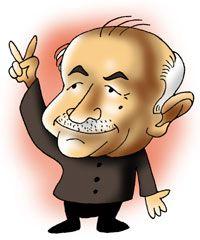 Will October see him heading Maharashtra? Illustration: Uttam Ghosh/Rediff.com
Home Minister Sushil Kumar Shinde is among the few Congressmen still smiling.
In the grim scenario of the UPA losing power, most ministers face an uncertain future.
But Shinde is grinning ear to ear, and it has something to do with his prospects in Solapur, Maharashtra, where the veteran campaigner is confident of winning his Lok Sabha seat.
More importantly, Shinde anticipates a change of guard in the state where assembly polls are due in October.
In his assessment, if the Congress under Chief Minister Prithviraj Chavan fails to do well in the Lok Sabha polls in the state, Mama and Son won't hesitate to remove Chavan.
Shinde, who has led the Congress to success in Maharashtra twice, considers himself a frontrunner for the CM's job.
That's why Shinde is likely to keep grinning for a while.