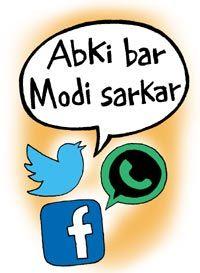 Even opponents seem keen on cashing in on the Modi slogans' popularity. Illustration: Uttam Ghosh/Rediff.com
'Abki bar Modi sarkar' and 'Modi sarkar zaroori hai' have caught the popular imagination.
Apart from buzzing on social media, these slogans have become part of daily conversation as well.
Narendra Modi's opponents have been quick to seize the slogans -- for their purpose, of course.
In Kanpur, there were slogans and graffiti saying 'Modi sarkar zaroori hain, Murli Manohar Joshi majboori hain.'
In Lucknow, Samajwadi Party and Congress workers coined the sly, 'Rajnath Singh ko haraana hai, Modi ko prime minister banana hai.'
The BJP and Modi have reason to smile -- desperation has driven their opponents to adding to his aura.