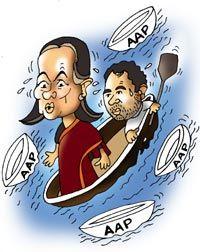 Was Ajay Rai put up just to hobble Kejriwal in Varanasi? Illustration: Uttam Ghosh/Rediff.com.
What took the Congress so much time to finalise its candidate for Varanasi against Narendra Modi?
Apparently, Congress managers were wary of the Aam Aadmi Party and its leader Arvind Kejriwal stealing a march over the party in the country's most watched Lok Sabha contest.
Sonia Gandhi and Rahul Gandhi reportedly got wind of the Muslim clergy's move to prevail upon the feared Mukhtar Ansari -- the runner-up in 2009 -- not to contest from Varanasi so that Muslim votes are transferred en bloc to Kejriwal.
Ansari had communicated to the clergy that he was ready to shift to Ghosi, provided his arch-rival Ajay Rai was not made a candidate from Varanasi.
Sonia and son did not want to lose the 'secular space' so they began mounting pressure on Rai, even promising him a campaign by Priyanka Gandhi if he agreed to become the Congress candidate.
Now indications are that Ansari will also join the fray and Kejriwal will not get the bulk of anti-Modi votes to pose a serious threat to the BJP's prime ministerial nominee.
Check out: Poll Gupshup