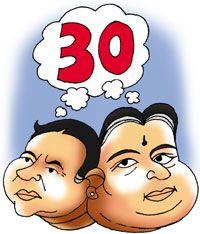 Same goal, different strokes for the two lady CMs. Illustration: Uttam Ghosh/Rediff.com
Both ladies are targeting the 30 Lok Sabha seats club to emerge as the third biggest player behind the BJP and Congress.
J Jayalalithaa and Mamata Banerjee are trying to reach their goal in different ways.
The Tamil Nadu chief minister may have prime ministerial aspirations, but when she is out campaigning, she shows little anxiety or aggression.
Jaya's day begins at mid-day, with travel done via jets and choppers. Each day she ensure she is back home, in her bungalow in Chennai's Poes Garden, for the night.
In contrast, the West Bengal chief minister is all in a hurry and fired up. Mamata attends as many public meetings as possible in a day. She spends the night wherever she halts, with food, sleep, rest all secondary.
?