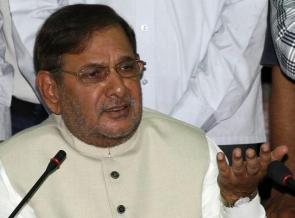 As the political drama unfolds in Bihar, Janata Dal-United chief Sharad Yadav on Monday said the decision of Nitish Kumar to quit as chief minister is 'final'.
Yadav said this ahead of the JD-U legislature meeting to discuss the ongoing situation after Nitish said on Sunday he needed a day to decide after JD-U's members of legislative assembly asked him to continue in power.
"The decision (Nitish Kumar's resignation) is in favour of the nation, the party and Nitishji. It was a difficult decision but is final and right," he said
Yadav also ruled out taking support of Lalu Prasad Yadav's Rashtriya Janata Dal in formation of a new government in Bihar. "No. Never have we taken and there is no question of taking support from him," he said about the possibility of an alliance.
Complete Coverage: Elections 2014
The political crisis in Bihar arising out of the resignation of Nitish as chief minister following the severe drubbing that JD-U suffered in the Lok Sabha elections remained unresolved on Sunday with the party failing to elect its 'new' leader. Many of JD-U MLAs threatened to sit on a dharna if he refused to withdraw his resignation, party spokesman Sanjay Singh told reporters on Sunday, on a day of fast-paced political developments.
Even as JD-U MLAs were holding a meeting, a Bharatiya Janata Party delegation met Governor D Y Patil and asked him to insist on a parade of individual MLAs and written support of all supporting parties if Nitish again staked claim to form government in the state.